This is an archived article and the information in the article may be outdated. Please look at the time stamp on the story to see when it was last updated.
OKLAHOMA - After a mild summer, many Oklahomans are preparing for a brutal winter.
However, an old-fashioned resource used for weather says this year's winter weather may be better than you think.
According to the Old Farmer's Almanac, Oklahoma's winter will be calmer than normal.
"Winter temperatures, precipitation, and snowfall all will be below normal. The coldest periods will be in mid- and late December, early January, and mid- to late January, while the snowiest periods across the north will occur in mid- to late December and early to mid-January," the Almanac said.
We know that Meteorology is a science, but it's not an exact science. Forecasting a year in advance is difficult, but the National Weather Service says the methods they use are fairly accurate.
"They call it a global climate model. The way the model works is it goes back and looks at previous 30 years or so and looks at the general trend," said Jonathan Kurtz from the National Weather Service.
Right now the National Weather Service says they are anticipating a pretty standard winter.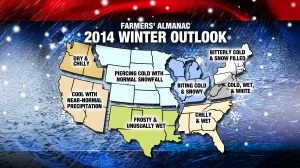 4 Warn Chief Meteorologist Mike Morgan says any given winter can almost go any way.
"This winter we should have a fairly weak El Nino, which means wetter than normal on average. Temperatures could either be warmer than normal or if you start the winter with some snow up north and it extends down toward Oklahoma in the month of December, it can violently swing toward colder than normal. Then you wind up having a lot of ice or a lot of snow," said Morgan.