This is an archived article and the information in the article may be outdated. Please look at the time stamp on the story to see when it was last updated.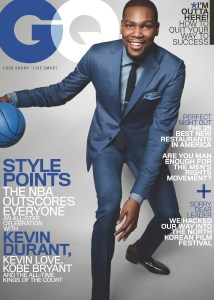 **Warning: Explicit language may be offensive to some**
OKLAHOMA — Oklahoma City Thunder's reigning MVP, Kevin Durant, doesn't seem to know where his nice guy reputation came from, and gave GQ insight that he isn't as sweet on the hardwood as he is off the court.
Gracing the cover of GQ, Durant told the magazine's staff writer, Zach Baron, "I'm a d**k. I don't talk to the other team… If I fall on somebody, I throw them to the ground. I'm not helping them up."
Durant's competitive nature is so strong he says he won't even watch other teams play because, in his eyes, watching another team is a form of support.
"I just don't like other teams or other players. I can't sit there. I feel like I'm supporting them by watching it. I hope you have a bad game. Because I'm such a hater! I thought it was a bad trait I had. I was like, Man am I jealous? Why do I hate this guy? But I hope both of the teams lose! That's how I feel."
Although he may have a bit of a mean streak, no one can knock KD for his loyalty to Oklahoma City. But his contract runs out in 2016, and people are speculating about whether or not he will stay with the Thunder.
"If it comes down to that, I mean: I was (loyal). My deal's up in 2016. I'll have been here nine years. I could easily have wanted out. I could have easily not signed the extension after my rookie contract. I could have not played as hard every night. But people tend to forget."
"Players are paid to do their jobs, no matter who's on the court. And as superstars, you gotta lead what you have…You gotta do your job, and you gotta trust that the front office is going to do their job. It's hard, though. You know what I'm saying? Because it's like, sh*t, I want to win. Obviously our players aren't as good as, you know, than they were before. But you have to figure it out."
However, his loyalty to WNBA player and former-fiance, Monica Wright, still remains in question to the public. While it's a private matter, Durant admits, "I didn't really know how to, like, love her, you know what I'm saying? We just went out separate ways."
The painful memory of a broken relationship that KD says still haunts him.
"I go to sleep at night, like, 'Am I gonna be alone forever?' … I feel like there's no hope. But I still gotta have faith."
Well, maybe all is fair in love and basketball.
The March issue of GQ will be available on newsstands in New York and L.A. on February 18 and nationally February 24.