This is an archived article and the information in the article may be outdated. Please look at the time stamp on the story to see when it was last updated.
ARDMORE, Okla. -- Wild hogs have invaded every county in Oklahoma.
As a non-native species, feral hogs are breeding out of control and costing our state millions in damage to agriculture, wildlife, water quality and soil health.
"The more they're hunted, the smarter they get," said Dave Wingo, a Holdenville rancher. "They'll eat baby calves. They'll eat baby deer. They'll eat baby turkeys."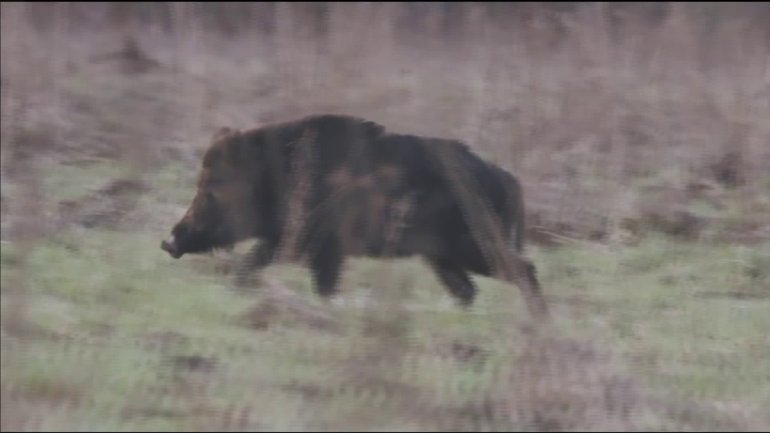 Numbering in the millions, this species of nasty porkers have gone hog wild.
Wingo's 4,000 acre farm in Hughes County is overrun with feral hogs.
The opportunistic omnivores have torn up Wingo's wheat fields and obliterated his pecan ranch.
He's waged war on the swine for about 10 years.
Wingo estimates the greedy half-breeds cost him $100,000-a-year in damage and lost production.
"They never stop," Wingo said. "They're just like a shark swimming in the ocean. They just never stop rooting. They might sleep for two hours then they're back to rooting and tearing up and eating stuff. They're very destructive. They're the terrorist of the animal kingdom."
The problem with wild hogs is they are fast breeders. A single sow can have seven or eight baby pigs a year.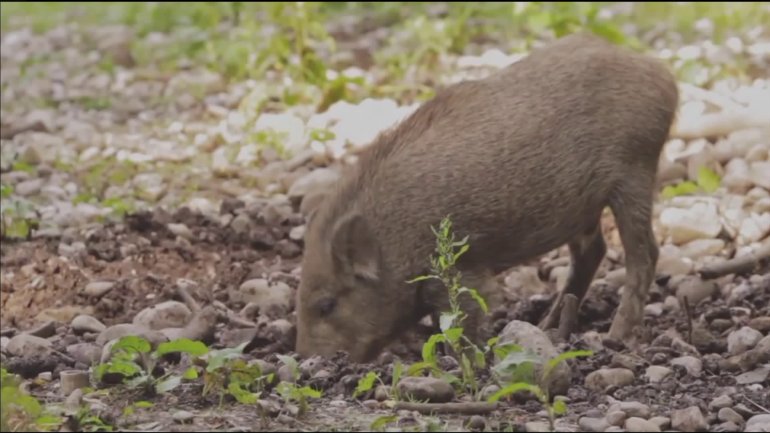 "You have to capture 70 percent of the population on an annual basis in order to maintain status quo," said agriculture researcher, Josh Gaskamp. "So if we don't capture 70 percent of the pigs on the landscape, we've got more pigs next year."
Gaskamp leads the team of researchers at The Noble Foundation who have working to solve Oklahoma's pig problem for years.
Five years ago, Gaskamp began investigating a solution when feral hogs started interfering with white tail deer research.
"The first drop, we caught 14 pigs," said Gaskamp. "The next, we caught 39, and we said, 'Wow, we've got to develop this because this is it.' It's not only a neat tool. It's the most effective tool for controlling feral hogs to date."
BoarBuster was designed by The Noble Foundation. It is forged at W.W. Livestock in Thomas, Oklahoma.
When assembled, it is a half-ton of suspended steel, capable of catching a whole sounder of hogs.
"Catching the whole sounder is the clue," said Sam Eck, at W.W. Livestock. "With most conventional traps, the hogs have to pass through a gate, and there's always two or three that stand back and watch. They won't go in."
The Boar Buster can catch a group of hogs as big as 20 or 30 pigs.
The trap is effective and innovative. Landowners activate the BoarBuster remotely on their iPhone.
The camera is motion activated and hooked to cell service,  which triggers an alert to your smartphone when a wild animal trips the trap.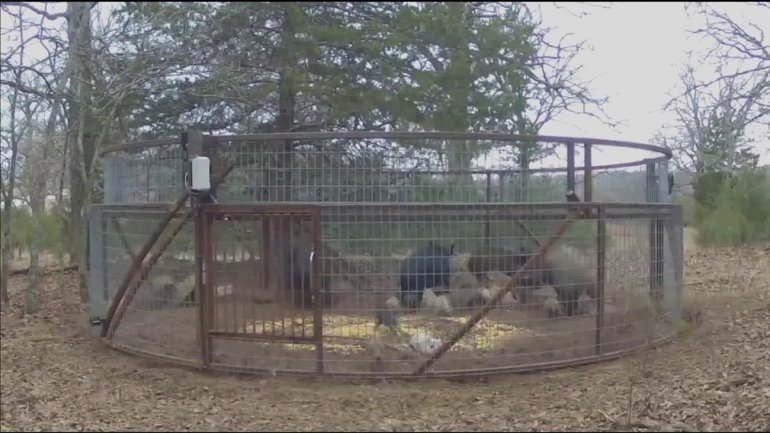 "Everybody's got a smartphone, and that's all you've got to have to be able to operate the trap," said Eck. "As old-fashioned as it is, most of these guys have stepped into the 21st century as far as technology goes."
Cory Gathers trapped 30 pigs in his BoarBuster in the first month he installed it on his Hinton farm.
"Those are the smartest, dumb animals you've ever seen in your entire life," said Gathers.
Day or night, at home or on the ranch, Gathers can drop the trap from the palm of his hand.
"It makes it easier, that's how the world is. Everybody's all about easier," Gathers said.
BoarBuster is the marriage of high-tech and low-tech; a major step toward solving the bristled bellied crisis rooting up the Oklahoma landscape.
Right now, there's only one model of BoarBuster available. It costs $6,000 for the trap, plus a monthly cell phone service fee.
Boar Buster traps are sold around the country. W.W. Livestock said they have traps set up in about a dozen states right now across the southern United States.