This is an archived article and the information in the article may be outdated. Please look at the time stamp on the story to see when it was last updated.
DENVER, CO. – A woman accused of recruiting Edmond students in a prostitution ring was arrested in Denver, Colorado.
Last month, police were looking for 35-year-old Elizabeth Andrade and 45-year-old Germaine Coulter.
Police say Andrade, one of Coulter's main prostitutes, was arrested April 10 in Denver.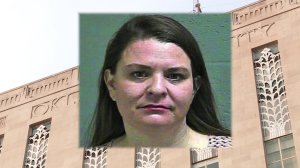 Officials said the two were recruiting Edmond Santa Fe students to work for them from the inside.
According to court documents, police learned of their plan after arresting Andrade in a prostitution sting. When she was arrested, they discovered alarming photos of young girls on her cell phone. Some of those photos included two teenage Santa Fe students.
Coulter, "one of the most well-known pimps in Oklahoma at one time," was arrested in March in Wichita, Kansas.