This is an archived article and the information in the article may be outdated. Please look at the time stamp on the story to see when it was last updated.
PHOENIX, Ariz.  – An Arizona father is overjoyed and heartbroken at the same time.
Erica and Carlos Morales had been wanting to have children for years.
When Erica found out she was pregnant with three girls and a boy, she and her husband couldn't have been happier.
Her life's wish was finally being granted, but no one knew it would be right before her death.
"It was a matter of a few hours. The babies were delivered about 6:30 in the evening, and Erica passed away early morning," said Nicole Todman, Erica's best friend.
Tracey, Paisley, Carlos Jr. and Erica were all born several weeks early.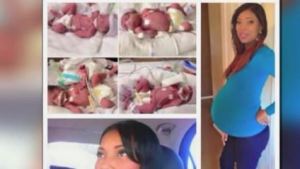 Friends say if Morales had a choice whether to live without her children or die for them, she would have chosen the latter.
"The outcome would be the same," said Todman. "There was nothing she was more determined to do in life than to give life. That was her determination. That's all she wanted."
Doctors have not released exactly how Morales died.
The hospital released the following statement, saying, "Our heartfelt thoughts and condolences are with the family during this very difficult time."
"Her purpose was to be put here to have those children, to have those children, to be an angel, to guide them, to watch them," Todman said.
Friends have set up a GoFundMe account, which has already raised $91,000 for the family.
See a mistake? Report a typo here.