This is an archived article and the information in the article may be outdated. Please look at the time stamp on the story to see when it was last updated.
OKLAHOMA CITY– Oklahoma City police are at it again. They have done another act of kindness to warm the hearts of those in need.
Lori, an Oklahoma EMT couldn't afford to make her son's birthday special, so OCPD decided to help her out.
Only a few hours after speaking to one of the officers about her son's birthday, Lori found a gift bag left for her at the EMSA headquarters. Lori said the gift inside was "more than I could have ever imagined!!"
When she opened the bag, Lori found a Samsung Galaxy tablet from the officers.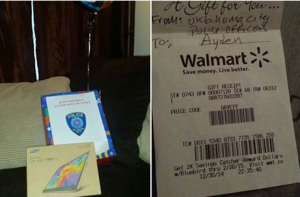 The receipt read, "A gift for you… From: Oklahoma City Police officers. To: Ayden."
"I am so proud to work alongside the amazing police officers at OCPD. They do so much more than just 'be cops.' From the bottom of my heart, THANK YOU for helping me make Ayden's birthday special!!"
See a mistake? Report a typo here.