This is an archived article and the information in the article may be outdated. Please look at the time stamp on the story to see when it was last updated.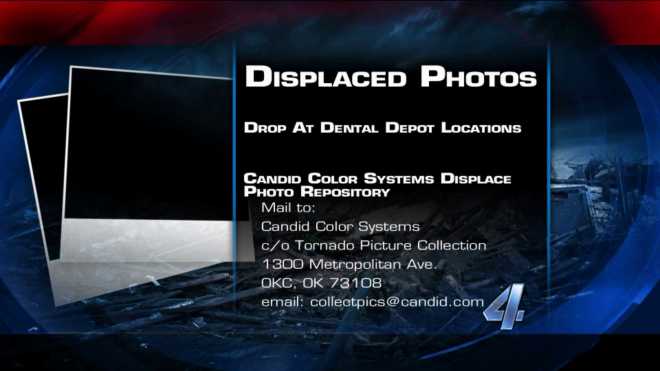 MOORE, Okla. - As cleanup crews start clearing debris from the hardest hit areas of Moore, many people from all over the area are finding pictures scattered and damaged by the storm.
Melisa Rose is one of them.
She lived through the May 3, 1999 tornado as well as the one on May 8, 2003.
"You have no words for it, she said "You just sit and watch and hope that it's not going to hit you."
On Monday, for the third time, she stepped outside to see a city once again left in ruins.
Since she lives close by she headed to the Warren Theater to see what she could do to help.
She soon realized that picking up photographs scattered by the tornado was the answer to that call.
"I almost threw [the first picture] back down but then I started looking at the people in this picture and I started thinking these are memories that they're never going to get back," Melisa said.
Since then, she's collected as many as she can.
Some she's picked up off the ground, others out of puddles.
"This one's my favorite," She said, holding up a faded photograph. "Because it's an old couple at their, I don't know if it's like a wedding anniversary or their wedding."
Now Melisa is hoping these faces can find their way back to their families.
Anyone with pictures can drop them off at Studio Innovations at 201 N. Broadway in Moore.
Later, they'll be organized and posted on nationaldisasterphotorescue.net for people to claim.
Facebook: Moore Oklahoma Lost and Found
Facebook: Oklahoma Tornado Doc & Picture Recovery
For many who lost everything, a photograph can mean the world.
"It's something that I want to be able to give back to them, so they can have that one thing left that they can't ever get back," she said.
You can also drop off pictures at all Dental Depot locations in Moore, Oklahoma City, and Norman.
*Get complete coverage of the Moore tornado here*