This is an archived article and the information in the article may be outdated. Please look at the time stamp on the story to see when it was last updated.
ENID, Okla. - An Oklahoma man is behind bars after allegedly kidnapping and beating his girlfriend.
According to Enid police, a 35-year-old woman entered a business and asked for the employees help.  She claimed she had been beaten by her boyfriend.
The woman told police that her boyfriend, 23-year-old Jose Cuellar, had been beating her for about five years.
She also told police she was held against her will for the last 48 hours and was beaten continuously during that time.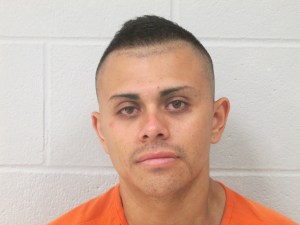 Officials say the woman was taken to the hospital to be examined.  They found she had been beaten from head to toe having many bruises, cuts and burns all over her body.
During the investigation authorities say they also determined that several of these acts of violence occurred in the presence of their minor children.
Cuellar was arrested for multiple felony and misdemeanor counts including:
4 counts: Felony; Domestic Assault and Battery with a Dangerous Weapon
1 count: Felony; Kidnapping
1 count: Felony; Arson
1 count: Felony; Planning/Devising a Violent Act
1 count: Felony; Planning Violent Act
1 count: Felony; Domestic Abuse with Prior Pattern of Physical Abuse
2 counts: Misdemeanor; Domestic Abuse-Assault and Battery
1 count: Misdemeanor; Threaten Act of Violence