This is an archived article and the information in the article may be outdated. Please look at the time stamp on the story to see when it was last updated.
TEXAS – A Texas family was brought to tears by a random act of kindness by a group of firefighters. The men fought to save a man's life, then offered help in a way his family never expected. It's a heartfelt gesture family members say they'll never forget.
It was a normal call for the men of Engine 4 in Baytown. At a house one mile away, 65-year-old John McCormick collapsed while mowing his front yard. He had a history of heart trouble. This time his heart stopped.
Firefighters and EMTs revived him and followed the ambulance to the hospital. But then engine driver Luke Bednarek had an idea.
So, they drove back to the house.
"We're all fighting over who can push the mower first," Lt. J.D. Giles said.
That's when a neighbor secretly took a picture of firefighter Blake Steffanauer finishing the front yard.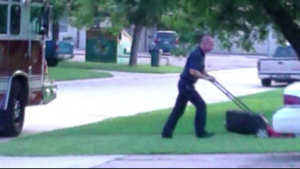 "I just happened to get off the truck first and grabbed the lawnmower first. We were all fighting over it," Stefffenauer said.
They took turns, and they did the backyard too. Then the firefighters locked the garage, put the key in the mailbox, and left a handwritten note that said "we felt bad that your husband didn't get to finish the yard, so we did."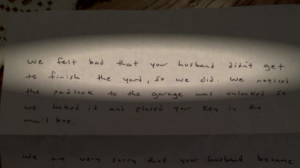 They didn't think it was that big a deal.
"No not at all. Just something to help someone out in the worst time of their life," Lt. Giles said.
But it was a letter, and a gesture, that made a daughter weep.
"It just showed me that there's still compassion. That people still do random acts of kindness every day for people that they don't know," John's daughter Jeana Blackford said.
This story does not have a happy ending. John McCormick died two days later. But his family thanked the firefighters for giving them those two days to say goodbye, and for restoring their faith in people with a simple random act of kindness.
"I just couldn't believe it. I just couldn't believe they took the time to do that," John's wife Patsy said.
"It just speaks to their character. They say honor is doing the right thing when nobody's looking. That's a fact. They were very honorable," son-in-law Dan Blackford said.
The picture of that random act, posted to the City of Baytown Facebook page, is already going viral.
The McCormick family is getting calls from as far away as New Zealand, and they're thankful a neighbor took it.
"This just shows just exactly how special they really are," Jeana said.
So they can say thank you to the firefighters, and show the rest of us what kindness looks like.