This is an archived article and the information in the article may be outdated. Please look at the time stamp on the story to see when it was last updated.
Brandi and Justin from Elk City won $1,000 dollars in the ONE GRAND A DAY GIVEAWAY sponsored by RCB Bank and NewsChannel 4.
This Oklahoma couple said they are going to pay the $1,000 dollars forward to help a mission their church is planning.
Watch KFOR NewsChannel 4 weeknights at 10:00 for your chance to win the ONE GRAND A DAY GIVEAWAY from RCB Bank.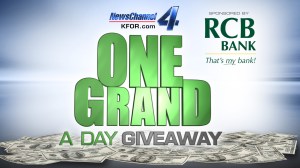 Look for your cue to call or text.