This is an archived article and the information in the article may be outdated. Please look at the time stamp on the story to see when it was last updated.
OKLAHOMA CITY – The NBA confirmed Tuesday that Kevin Durant has been named the winner of the Maurice Podoloff trophy as the 2013-2014 Kia NBA MVP.
During the emotional news conference on Tuesday afternoon, Durant thanked God, his teammates, his coach, the NBA, as well as Thunder fans for all believing he could be a MVP player.
After thanking his friends and family for their support, Durant brought the crowd to tears when he said he believes the real MVP is his mom.
Through tears he said, "I don't think you know what you did. You had my brother when you were 18-years-old. Three years later, I came out. The odds were stacked against us;  a single parent with two boys by the time you were 21-years-old. Everybody told us we weren't supposed to be here. We moved from apartment to apartment by ourselves. One of the best memories I have is when we moved into our first apartment. No bed, no furniture and we just all sat in the living room and hugged each other because that's when we thought we'd made it. When something good happens to you, I don't know about you guys, but I tend to look back to what got me here. You wake me up in the middle of the night in the summertime and make me run up the hill, make me do push ups, screaming at me from the sidelines of my games at eight or 9-years-old. We weren't supposed to be here. You made us believe. You kept us off the street, put clothes on our back, food on the table. When you didn't eat, you made sure we ate. You went to sleep hungry, you sacrificed for us. You're the real MVP."
Several members of the team, Durant and his mother were in tears by the end of the speech.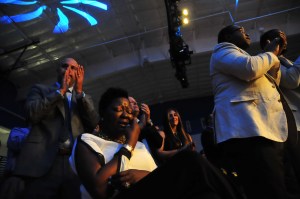 His mother received a standing ovation from everyone in the building, including the new MVP.
MORE: SEE WHAT DURANT HAD TO SAY ABOUT HIS TEAMMATES