This is an archived article and the information in the article may be outdated. Please look at the time stamp on the story to see when it was last updated.
ANNAPOLIS, MD. – It's a small world after all – two Oklahomans reunited at a Navy football game in Maryland over the weekend.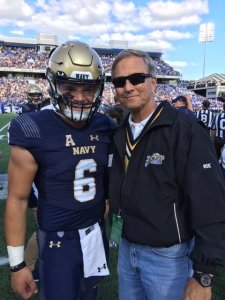 Midshipman Perry Olsen, backup Navy quarterback, met with Oklahoma-native Assistant Secretary of the Navy for Manpower and Reserve Affairs Greg Slavonic.
The two were at the Navy-Air Force football game on Saturday.
Olsen is a graduate of Yukon High School and Slavonic is a former employee of News 4.
The Navy won the game 34-25.