This is an archived article and the information in the article may be outdated. Please look at the time stamp on the story to see when it was last updated.
Have you seen the "Gang of 4.? The people pictured above are known as Dennis "The Menace," The Beaver, Keith Partridge and Archie Bunker. Have no fear, the good news is that they were and still are widely popular TV personalities and they're coming to your home.
KAUT Freedom 43 TV will air classic TV shows, Dennis The Menace, Leave It To Beaver, The Partridge Family and All In The Family at the same time they air on its sister station, Antenna TV, starting at 2:00pm on Monday, September 17th. Freedom 43 can be seen over the air on channel 43.1 (Cox cable channel 714) and Antenna TV can be seen over the air on channel 4.2, (Cox cable channel 247).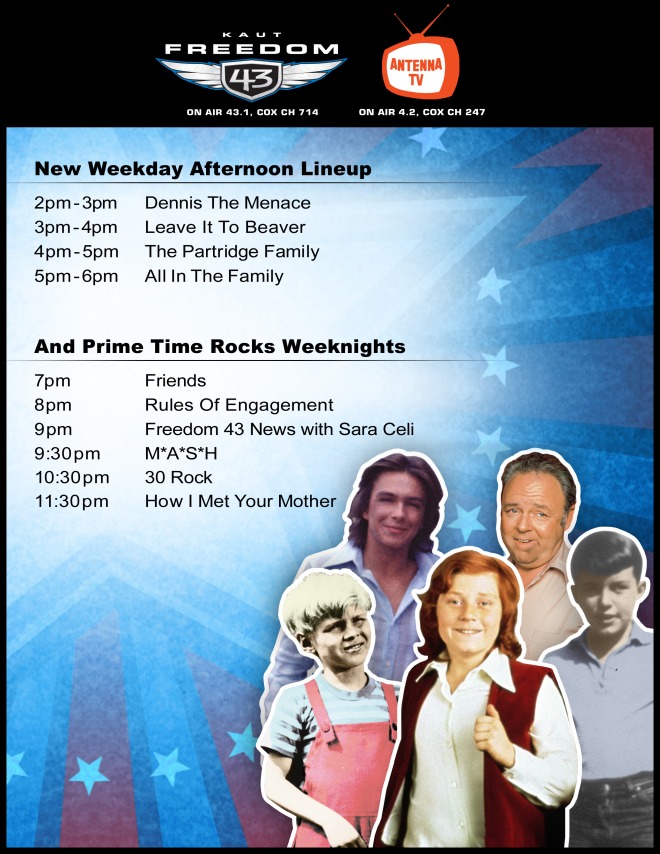 Dennis, also known as a neighborhood menace, is a TV show kid originally based on a comic strip by Hank Ketcham. Dennis The Menace is the only child of Henry and Alice Mitchell. He means well but is a trouble prone boy who often aggravates his neighbor, Mr. Wilson. See for yourself starting Monday at 2:00 on Freedom 43 TV and Antenna TV.
The Beaver, is the nickname of Theodore "The Beaver" Cleaver. He lives with his brother Wally and his wonderful parents, June and Ward. The Beaver often gets into trouble but thanks to his wise and understanding parents, everything turns out A-Okay in the end. Catch "The Beav" at 3:00pm.
The third member of the "Gang of 4" is Keith Partridge. He was the Justin Bieber of his day; back in the 1970's. Teenage girls went gaga over Keith. His family was a musically talented bunch and they sure looked good in bellbottom pants. To take a quote from their song, you'll "get happy" when you watch him at 4:00pm.
The last member of the "Gang of 4" is Archie Bunker. Simply put, he's a big grump with a not so modern (often downright bigoted) point of view.He is not afraid to speak his mind and rattle your nerves. It's All In The Family at 5:00pm.
In addition to these classic TV shows airing in daytime, Freedom 43 TV is revamping much of its programming schedule starting on Monday, September 17th. The hit show Friends moves into primetime with back-to-back episodes each weeknight starting at 7:00pm followed by two episodes of Rules of Engagement featuring Norman, Oklahoma's own Megyn Price as Audrey at 8:00pm.
The Freedom 43 News at 9:00pm is followed by an hour of one of televisions' most popular shows, M*A*S*H beginning at 9:30pm. After M*A*S*H there's an hour of 30 Rock followed by double runs of How I Met Your Mother and The Office.
http://kfor.upickem.net/engine/YourSubmission.aspx?contestid=69655