This is an archived article and the information in the article may be outdated. Please look at the time stamp on the story to see when it was last updated.
OKLAHOMA CITY - This weekend hundreds of Oklahomans are getting together to help find a cure for childhood cancer.
Mayflower has been supporting the St. Baldrick's head shaving event that raises money to help support research since 2003 when it started in OKC.
Mayflower member Gail Vines and her son, Fletcher, started Oklahoma City's St. Baldrick's event years ago when he was diagnosed with a type of bone cancer.
Fletcher lost the battle with cancer at just 11 years old in 2006 but his memory lives on especially through this event each year.
Scott Wallace has also been with the St. Baldrick's event since the beginning.
His daughter, Jennifer, was diagnosed with Leukemia in high school.
She got involved and so Scott did too.
Click here to donate to Scott's St. Baldrick's shaving team.
Jennifer was in and out of hospitals for treatment and decided she wanted to help others go through the same thing.
She graduated from OU and is now an ER physicians assistant.
Participants have their heads shaved at the event and seek donations from family, friends and church members.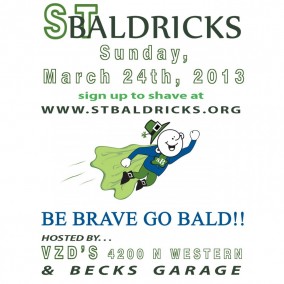 The youth group will be helping and is encouraging others to join in as a shavee, volunteer or to be there and support the shavees.
St. Baldrick's Head Shaving Event
Sunday, March 24
Starts at 12:30 p.m.
42nd St. and Western Ave. 
(Outside VZD's)
Our own Meteorologist Chase Thomason and Ashton Edwards will be emceeing the event so be sure to stop by and say hello.
Our photographer Mike Rose's wife is also shaving her head Sunday.
Click here to donate to her team
For questions contact Carrie Hulett, (405) 206-0049.
ALL PROCEEDS GO TO FIND A CURE FOR CHILDHOOD CANCER!
Click here to participate or donate