This is an archived article and the information in the article may be outdated. Please look at the time stamp on the story to see when it was last updated.
This entree is easy, inexpensive, and a fantastic show-stopper! Perfect when a quick, impressive entree is required, this will wow your guests and family, and works for dinner, brunch, or as an alternative to turkey or ham at a holiday meal. So easy it could be "everyday," but worth saving for special occasions!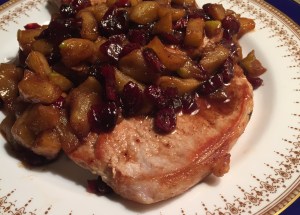 Pan Seared Pork Chops with Apple Cranberry Chutney
This recipe serves four; recipe may be halved or doubled.
4 3/4" Pork Chops
1 T oil
2 T Brown Sugar
Pinch Black Pepper
1/4 t Salt
1/4 t Cinnamon
1/4 t Nutmeg
2 T Butter (must be butter)
2 T White Wine (remnants are fine, or 1 T cider vinegar, 1 T water)
2 Granny Smith Apples, peeled, cored, coarsely chopped
1/3 C Dried Cranberries
2 T Chopped Pecans (optional)
Preheat oven to 150-175 degrees.
Heat oil in large skillet.
Mix brown sugar and spices in a small bowl.
Sear both sides of each pork chop and cook 5-6 minutes, turning occasionally and browning until done. Transfer chops to baking dish or cookie sheet and place in warm oven. Reduce skillet heat to medium-low.
Add butter to skillet, being careful not to burn. Add brown sugar/spice combo and stir. Add wine or cider/water mixture. Gently stir while adding apples. Cover and cook until apples begin to become tender. (3 minutes) Uncover, add dried cranberries and allow sauce to thicken a bit. Ladle fruit and sauce over warm pork chops. Top with pecans, if desired.