This is an archived article and the information in the article may be outdated. Please look at the time stamp on the story to see when it was last updated.
NORMAN, Okla. – The start of football season is just a day away, but officials at the University of Oklahoma say fans will have to adhere to stricter security measures this season.
Earlier this month, OU officials announced that the university will be updating its security policies to include walk-through metal detectors and a clear bag policy.
University leaders say the new policies will be in place at all entrances to Gaylord Family- Oklahoma Memorial Stadium.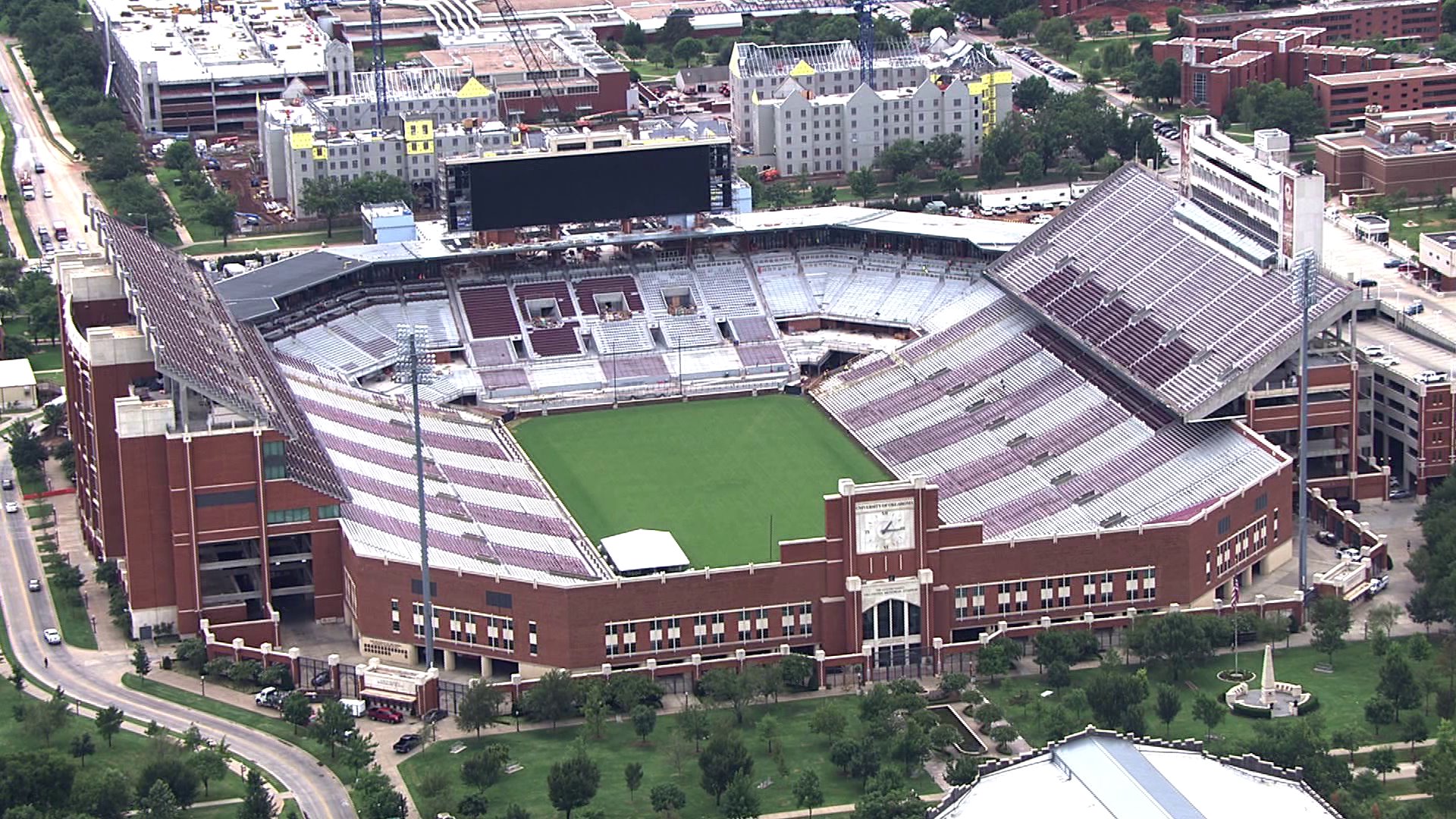 "The safety of everyone in the stadium is paramount to us and that's the reason we're implementing these policies," said OU Vice President and Director of Athletics Joe Castiglione. "These measures have become standard at many sports venues and we have experienced them multiple times as our teams have traveled around the country.
Organizers say several bags that were previously permitted inside the stadium will now be banned. Fans will only be able to carry clear plastic bags that are a maximum of 12 inches x 6 inches x 12 inches, or a one-gallon clear plastic freezer bag.
They will also allow non-transparent clutch purses that are no larger than 4.5 inches by 6.5 inches. Bags that are necessary for medical equipment will be allowed, but will be searched at marked medical lanes at each gate.
No other bags or purses, including diaper bags, will be permitted. The limit is one bag per person.
Click here to see the approved and banned bags.
Even though the bags will be clear, officials say they are will still be searched by security officers.
"It is still our recommendation that fans not bring bags of any kind to the stadium," said Michael Beirne, OU Director of Event Management. "If it's possible to enter the stadium empty-handed, it guarantees a quicker, smoother entrance."
In addition to the bag policy, metal detectors will be located at each gate.
Since each fan will have to go through the metal detector, officials say they will open the stadium gates two hours prior to each game to make sure everyone gets in on time.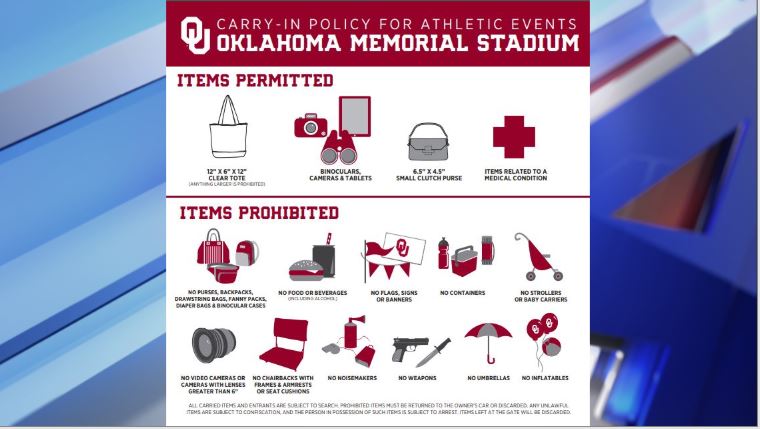 Permitted items:
Clear plastic bags (1 per person) no larger than 12″ x 6″ x 12″
One-gallon clear plastic freezer bags (1 per person)
Non-transparent clutch purses no larger than 4.5″ x 6.5″ (1 per person)
Bags necessary for approved medical equipment
Approved family care items (diapers, formula, etc.) must be included in the clear plastic bag
EMPTY, clear plastic water bottles less than 17 oz.
Seat cushions and chair backs smaller than 16″ wide and without frames or armrests
Prohibited items:
Alcohol (in all forms)
Baby seats
Baby strollers
Bags, backpacks, fanny packs & hard binocular cases
Banners/signs
Beach balls, footballs, balls or other sporting equipment
Cameras with lenses longer than 6 inches
Chair backs with frames, armrests and/or wider than 16 inches
Coolers, containers or ice chests
Explosives, firearms or weapons
Folding chairs or stools
Food or drink
Laptops
Laser pointers
Noisemakers of any type (i.e. air horns, plastic horns, whistles, etc.)
Personal heaters
Pets (with the exception of registered service dogs)
Selfie sticks, GoPros, bi-pods, monopods, etc.
Umbrellas (per Big 12 Conference)
Video cameras