How to beat the heat
Maintaining a neutral body temperature during the summer months prevents ailments like heat stroke and exhaustion. Cooling vests do just this and serve as long-lasting temperature regulators. There are a few different types of cooling vests available, and each one offers relief from the heat.
Shop this article: FlexiFreeze Ice Vest, Glacier Tek Flex Cool Vest and Techkewl Phase Change Vest
Phase change cooling vests
These vests use special ice packs with a higher freezing point inserted into compartments inside the vest. The ice packs take much longer to thaw, keeping you cool for an extended period.
Ice pack cooling vests
Similar to phase change cooling vests, these vests use regular ice packs on the interior. They are traditionally lightweight and relieve hotness without adding more weight onto you.
Evaporative cooling vests
The materials used on evaporative cooling vests are designed to soak up water at high speed. The water retained will slowly evaporate throughout use, and the vest just needs to soak in ice water to be replenished.
Circulatory cooling vests
Similar to a human's circulatory system, these vests have a system of tubes placed all over the vest. The tubes are filled with cold water that flows through the connected network. Once the water becomes warm after passing through every tube, its temperature is restored in a cooling reservoir. The cycle continues throughout use.
FAQ
Q. Do cooling vests work in environments with high humidity?
A. It depends on the type of cooling vest. An evaporative cooling vest will not perform as well in humid heat opposed to dry heat because the water absorbed in the vest can become hotter faster in this climate. An ice pack cooling vest might perform for longer periods of time in humidity.
Q. Can I wash my cooling vest?
A. Consider this when purchasing your cooling vest. Some brands vary in material and have to receive special care when cleaning. Review the cleaning instructions on the inside of your cooling vest or upon purchase.
Best cooling vests
Top cooling vest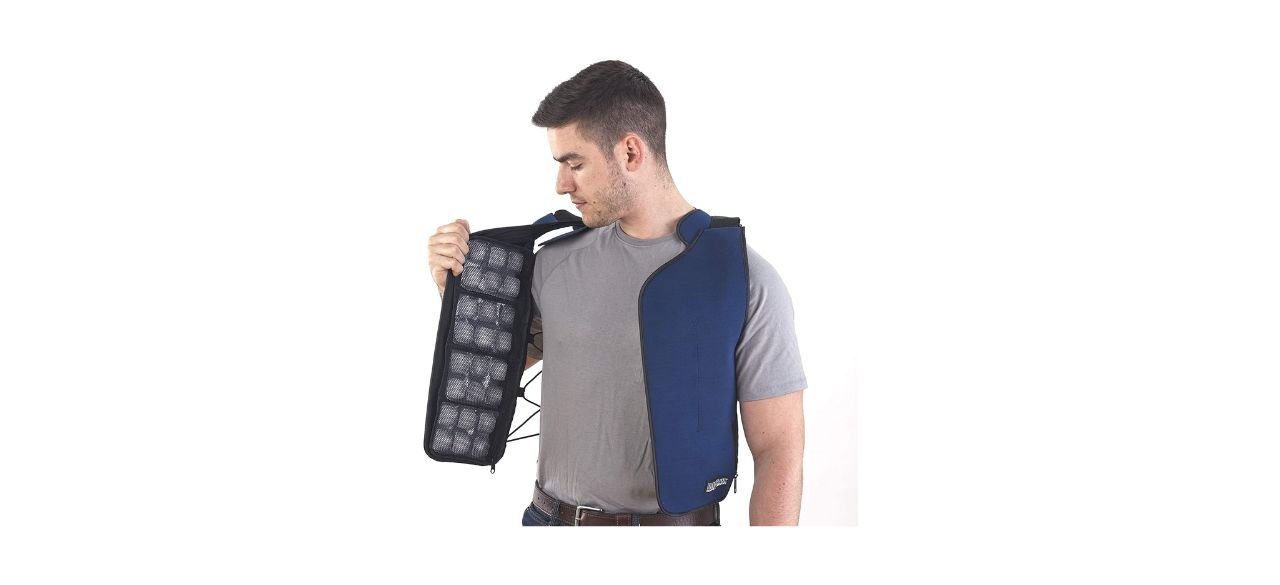 Lightweight and breathable, this cooling vest is perfect for anyone spending extensive time outdoors in high temperatures for work. This vest has a slim fit that makes it ideal for wearing for longer periods, whether it be over a shirt or under any outerwear.
Sold by Amazon
Top phase change cooling vest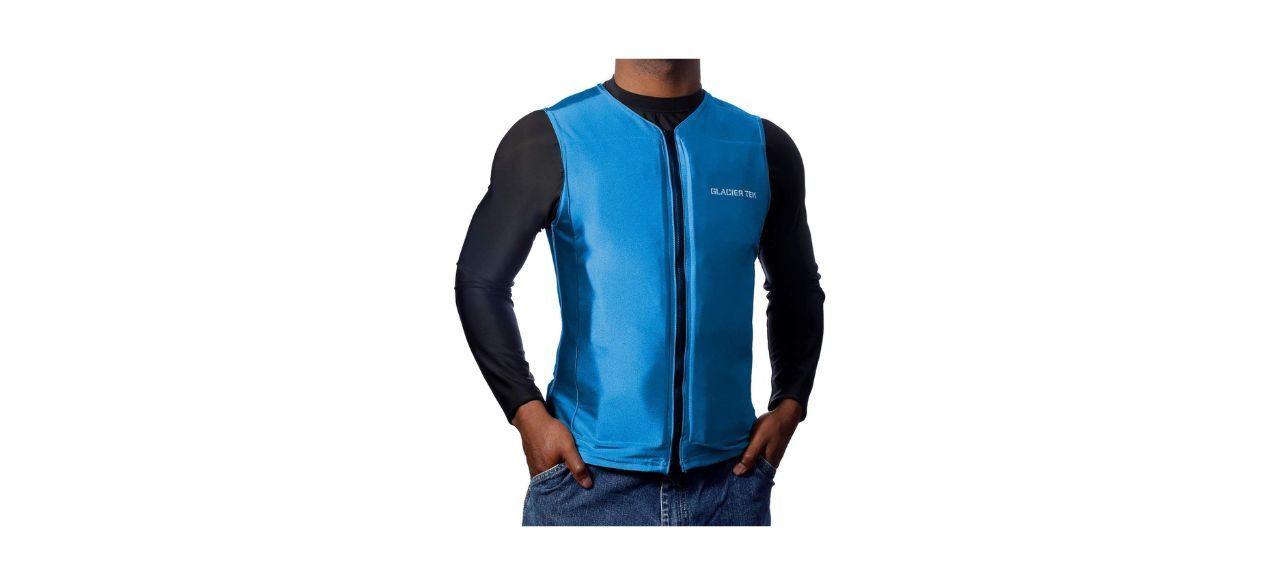 Containing packs of nontoxic liquid, these pouches have a higher freezing point than water, meaning they stay cooler for longer and help provide maximum relief from the heat.
With the pouches in the vest, it weighs 5 pounds, making this vest lighter and more comfortable than many of its competitors. It's a great option for anyone using their vest for leisure or medical reasons. The environment where you'll be wearing the vest, such as work, a park or a warehouse, is important to consider. In some situations, a more robust vest may be more appealing.
Sold by Amazon
Top phase change cooling vest for the money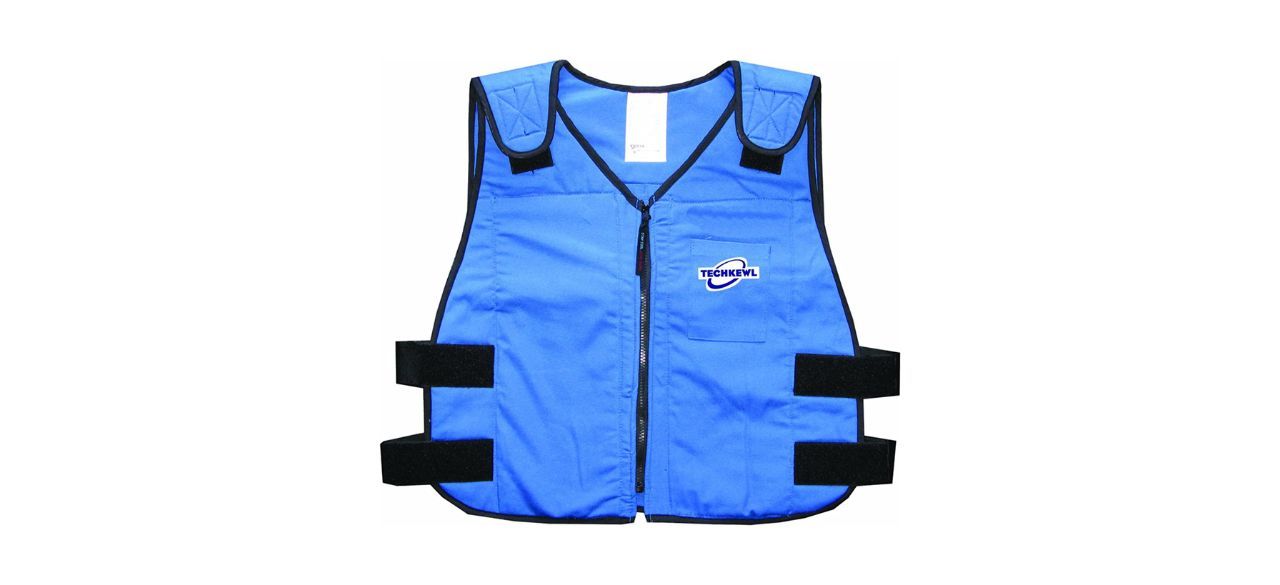 Featuring four pouches for keeping cooling packs, this is one of the more effective and long-lasting cooling vests available to consumers. The ability to host up to four cooling packs allows this vest to keep you cool for much longer than most other products can. Having more frozen packs to swap out means it is feasible to use this vest in the sun all day, as opposed to competitors that last anywhere from one to three hours.
Sold by Amazon
Top ice pack cooling vest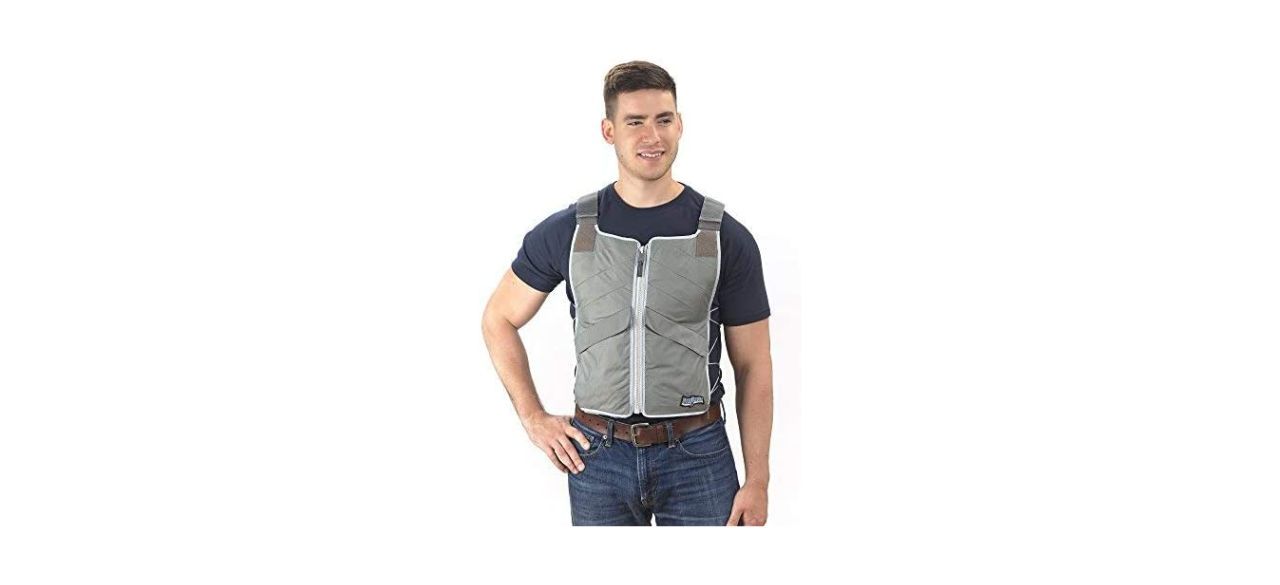 Flexifreeze Professional Series Ice Vest
This thin and minimalistic vest works in various situations, such as working outside, going on walks and gardening. It is less than 1 inch thick, which means this vest can easily tuck under any clothing without any discomfort or unease. Featuring thin ice sheets that slip into the vest, this option is adept at keeping you cool without sacrificing mobility or comfort.
Sold by Amazon
Top ice pack cooling vest for the money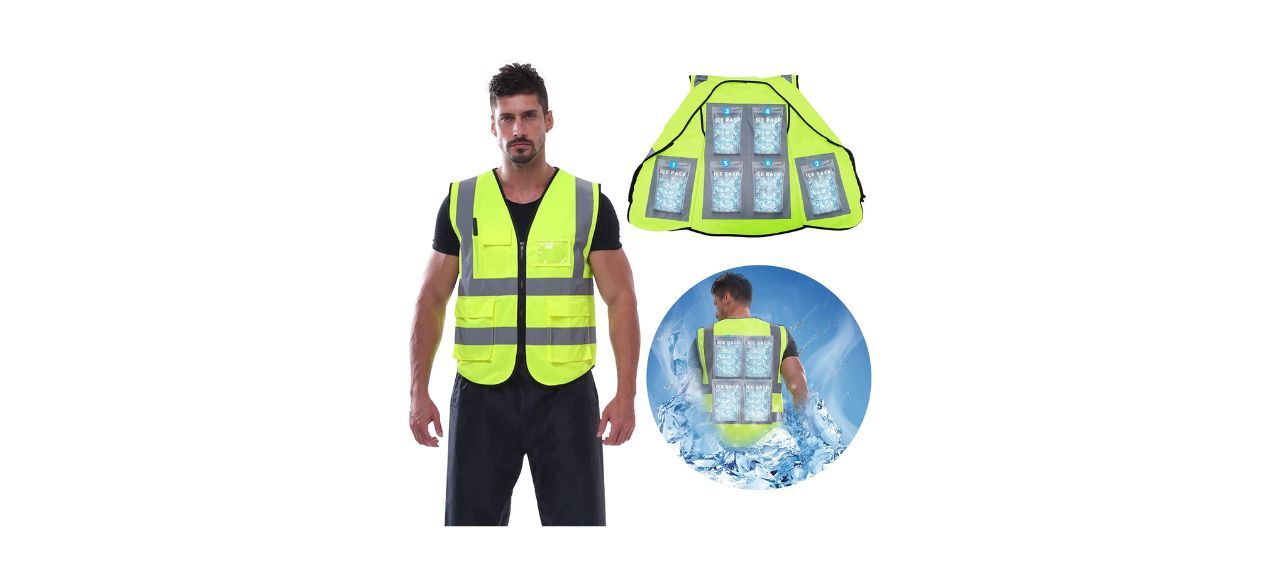 Cooling Reflective Safety Vest
Priced just under $40, this ice pack vest offers six pockets strategically placed inside the vest to keep you cool. This is a high visibility vest and is reflective to any light and in the dark.
Sold by Amazon
Top evaporative cooling vest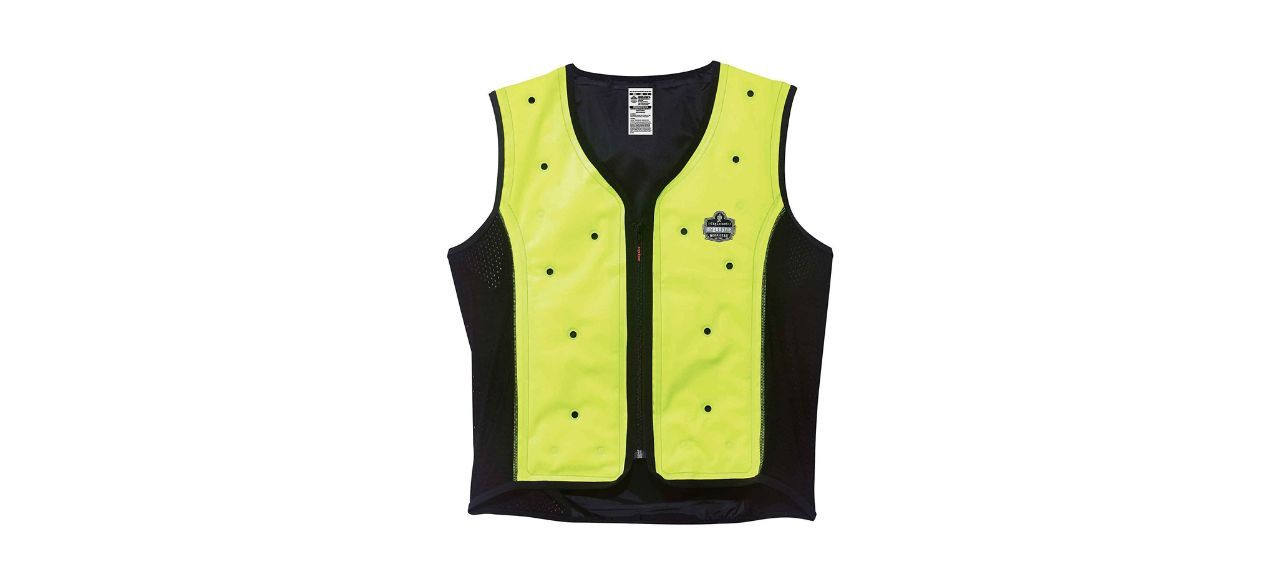 Ergodyne Chill Evaporative Cooling Vest
Aimed toward those working in labor or outdoors, this high visibility cooling vest uses evaporation to help keep you cool in the outdoor heat. The lightest and thinnest category of cooling vests, evaporative vests are anything but bulky, and the Ergodyne vest is no different. Although there is water inside the vest to induce evaporation, it is designed to keep the wearer dry and comfortable.
Sold by Amazon
Top evaporative cooling vest for the money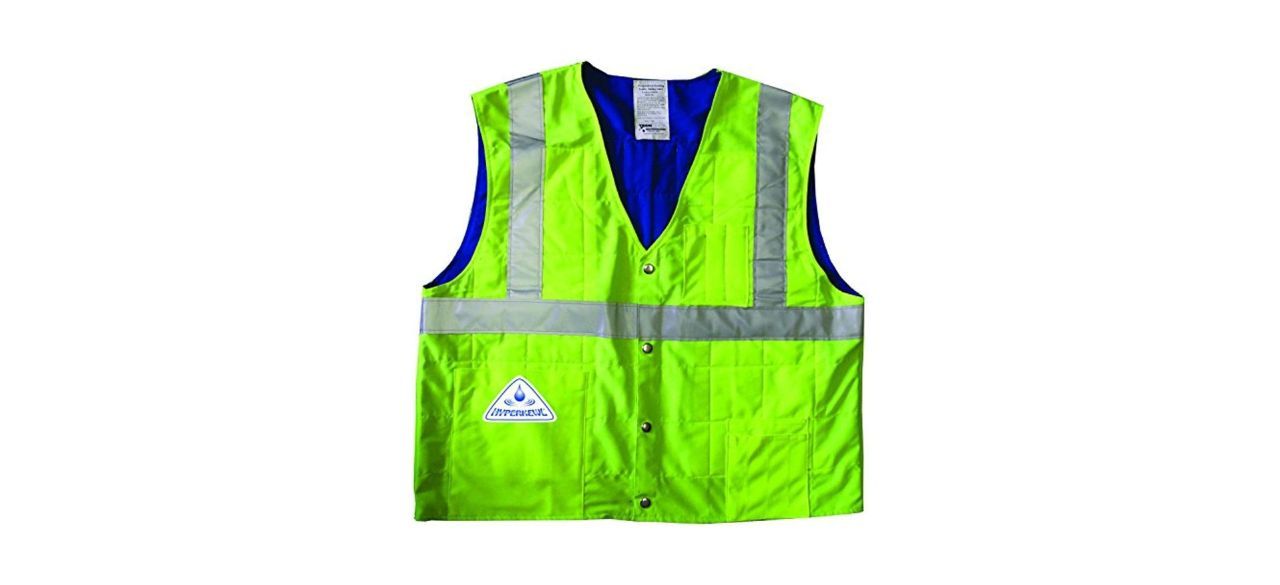 Hyperkewl Evaporative Cooling Vest
Using Hyperkewl fabric to keep you chill, this lightweight vest can work for five to 10 hours at a time. Its long duration of effectiveness is ideal for anyone working extended shifts out in the sun. Unlike other cooling vests, this option features an oversized cut and pockets.
Sold by Amazon
Top circulatory cooling vest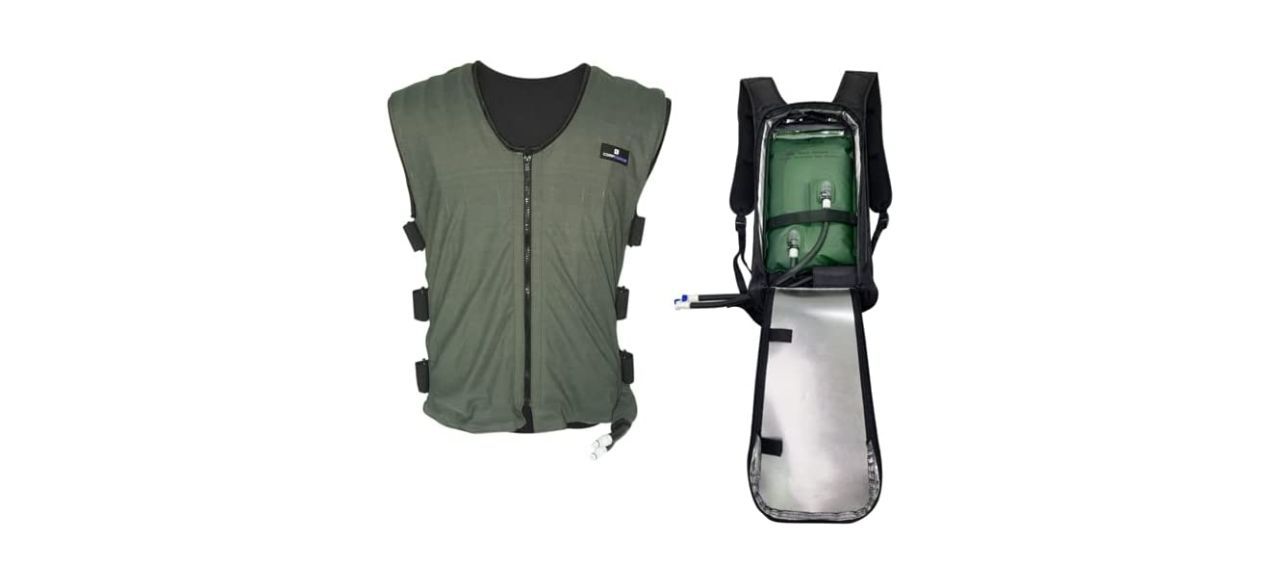 Compcooler Backpack Ice Water Cooling Vest
An internal backpack is used to store frozen and cold water, and the tubes circulate cold water to several locations in the vest. The four locations where the water is sent to are placed strategically in order to not disrupt any movement and to keep things as streamlined as can be when wearing this vest. This vest weighs a little over a pound and is an ideal middle ground between innovation and minimalism.
Sold by Amazon
Top circulatory cooling vest for the money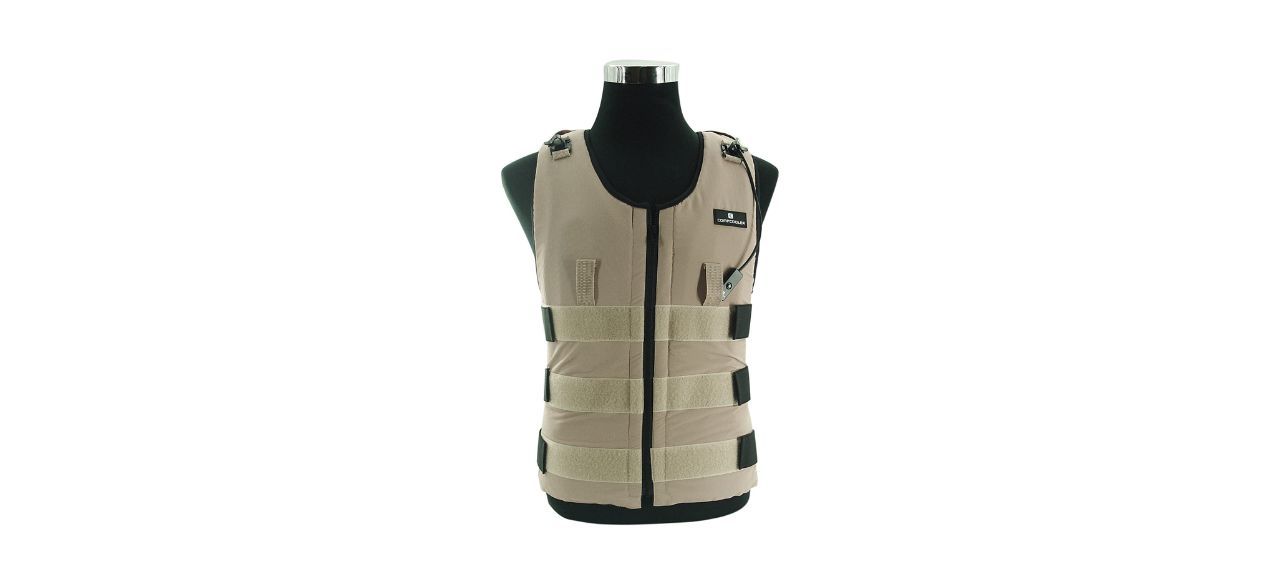 Compcooler Univest Ice Water Cooling System
A battery-powered circulatory cooling system can keep you cool for up to four hours, making this one of the more robust and functional cooling vests money can buy. The cooling system is built into an internal backpack and includes bladders that hold cold water for the vest to circulate around you for hours and keep you cool.
Sold by Amazon
Want to shop the best products at the best prices? Check out Daily Deals from BestReviews.
Sign up here to receive the BestReviews weekly newsletter for useful advice on new products and noteworthy deals.
Isabella Acitelli writes for BestReviews. BestReviews has helped millions of consumers simplify their purchasing decisions, saving them time and money.
BestReviews spends thousands of hours researching, analyzing, and testing products to recommend the best picks for most consumers.
Copyright 2023 BestReviews, a Nexstar company. All rights reserved.