Make your own pasta at home
Making pasta by hand looks impressive, but the truth is, homemade pasta is surprisingly simple to create. You can get started with just three ingredients you likely already have in your kitchen. Even if the only tools you have are a rolling pin and a chef's knife, you can feed your family and friends a satisfying and delicious meal made entirely from scratch. All you'll need is a recipe, a couple of hours, and just a little bit of practice.
Shop this article: Fox Run Polished Marble Rolling Pin with Wooden Cradle, Spring Chef Bench Scraper and OXO Good Grips 3-in-1 Egg Separator
Is homemade pasta better?
You won't just get a sense of accomplishment from making your own pasta — it tastes better, too. Fresh pasta has a more tender texture and a more pronounced eggy flavor than commercial-dried pasta. The pasta's springiness holds up equally well, whether it goes into lasagna or straight onto the plate with some butter. You can even try making pasta dough with unusual ingredients like spinach or saffron for an extra-special meal.
How to get started making pasta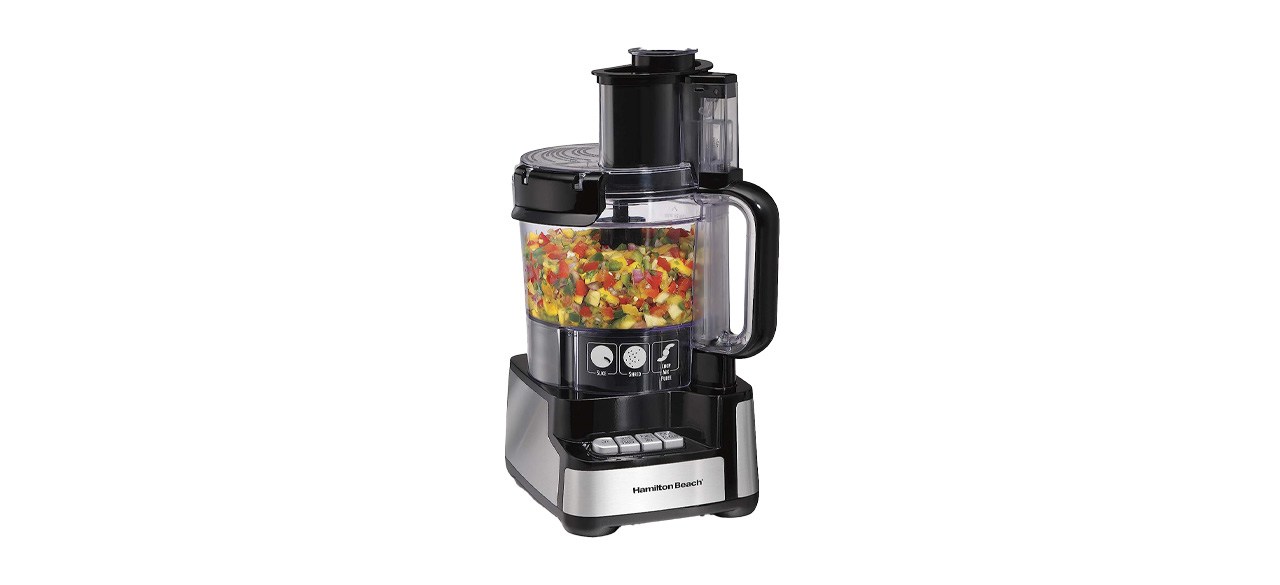 Hamilton Beach Stack & Snap Food Processor
Making the pasta dough
There are as many fresh pasta recipes as there are people who make pasta, but to get started, it's best to stick with a simple pasta dough that uses just a few ingredients: unbleached all-purpose flour, eggs, and a bit of salt.
If you want, you can use semolina durum flour, which is a more authentic pasta flour with a higher protein content and a coarser texture that helps sauces stick. However, if all-purpose flour is all you have in your pantry, it'll turn into wonderful pasta.
Place 10 ounces of flour on a clean work surface and make a well. Add two eggs plus four egg yolks to the well and gently start incorporating the flour using a fork, gradually scraping in flour from the sides of the well. Switch to a bench scraper when it becomes too difficult to use a fork and mix until it's fully combined by scraping and folding over the dough, turning it 45 degrees each time.
Kneading and rolling the pasta dough
You'll know the dough is ready for kneading when it stops sticking to your hands and holds its shape when rolled into a ball. Knead the dough for about 10 minutes until it's smooth and satiny, then shape it into a ball. Let it rest, wrapped in plastic wrap, for 30 to 60 minutes to let gluten develop.
Use the bench scraper to cut the ball into four equal portions and cover them with a towel to keep them from drying out. Working with one portion at a time, roll out the dough into an oblong shape between a quarter-inch and half-inch thick.
Making pasta by hand vs. using a stand mixer
If your arms aren't up to the task of all that kneading, you can use a powerful food processor or a stand mixer. Simply place all the ingredients in the work bowl and run the machine (using a dough hook if you're using a stand mixer) until a large, smooth ball forms.
How to shape homemade pasta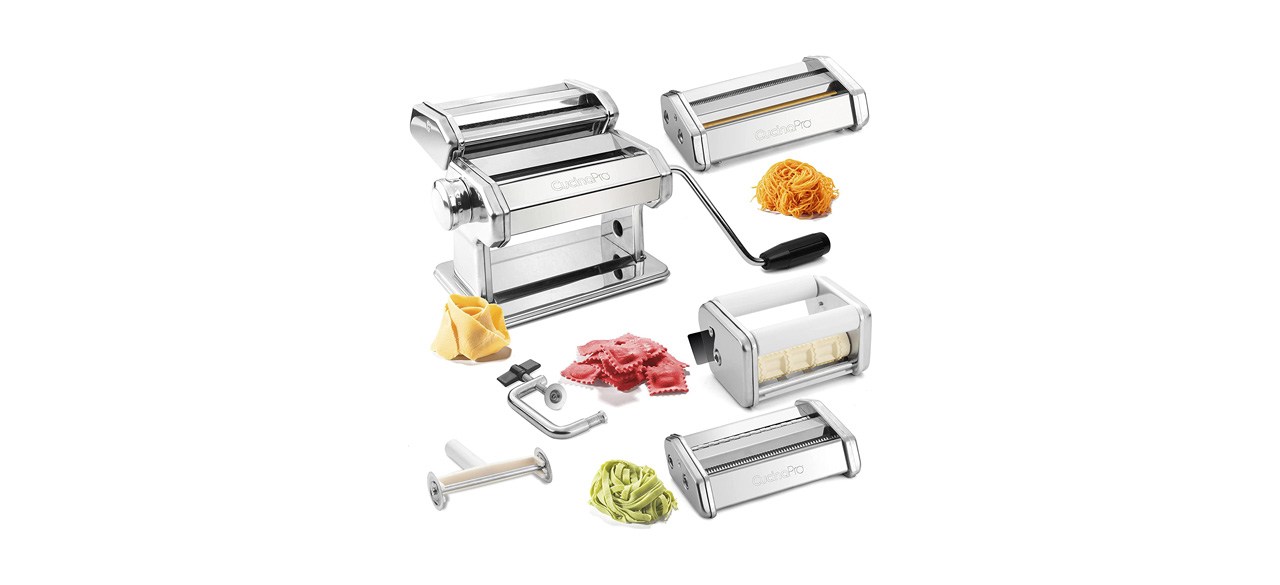 CucinaPro Pasta Maker Deluxe Set
Making pasta shapes with a pasta machine
Roll out your dough by hand or use a pasta maker. Some pasta machines can create extruded shapes like penne, while others deliver smooth sheets and strands of lasagna or fettuccine. Following the manufacturer's instructions for the type of pasta you want to make, feed your rolled-out dough between the rollers until it reaches the right thickness.
At this point, you can trim it by hand to make filled pasta or lasagna or run it through the pasta machine to cut it into strands. As the cut pasta strands emerge from the machine, carefully catch them, dust them with flour, shape them into nests, and keep them covered until you're ready to cook or dry them.
A stand mixer offers another advantage here: after you've whipped up a batch of pasta dough in the bowl, use the mixer's pasta-making attachment to roll out, cut, or shape pasta.
How to make filled pasta
For filled pasta, make sure your filling is relatively dry so you can seal up your pasta and avoid leaking or soggy dough. Avoid the temptation to overload your pasta — follow your recipe's guidance for the amount of filling to use in each pasta shape.
Depending on the type of stuffed pasta you're making, you can use a pasta stamp, a pastry wheel, biscuit cutters, or even a chef's knife to create rounds or squares. Seal the pasta by brushing the edges with a little water, then using gentle pressure to close the shapes. Make sure the filling is fully enclosed and that no air is trapped inside.
How to cook homemade pasta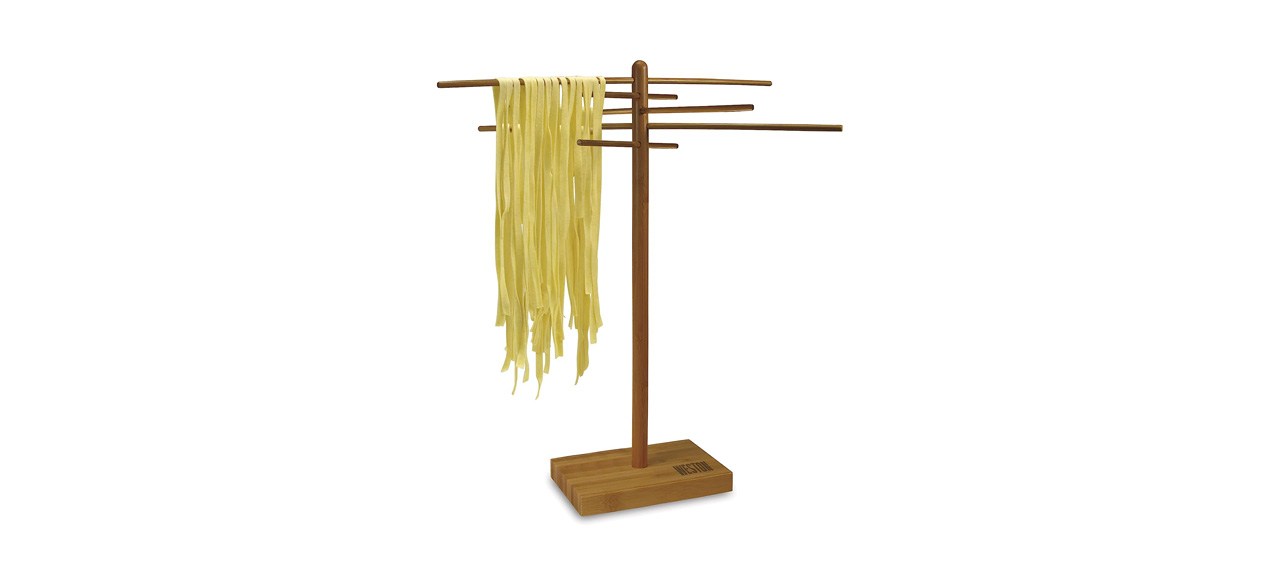 Weston Bamboo Pasta Drying Rack
Cooking fresh pasta
Homemade pasta cooks very quickly — depending on the shape, it will need only two to four minutes in boiling water, and slightly longer for stuffed pasta. Salt your cooking water generously to amplify your pasta's flavor, especially if your dough recipe doesn't call for salt. Serve it immediately.
How to dry fresh pasta
Alternatively, you can dry your uncooked pasta to serve at a future date. Leaving egg-based food out in the open can feel counterintuitive, but when properly dried and stored, there should be no moisture remaining to encourage bacteria.
Toss the pasta shapes in flour, then lay the strands in a single layer on a drying rack or on a baking sheet lined with parchment paper. Let the pasta dry uncovered and away from heat and sunlight, or use a food dehydrator for more consistency, especially if it's a humid day. When the pasta snaps instead of bending, it's ready for storage. Keep it in a dry, airtight container in your pantry or freezer.
FAQ
Q. How long does homemade pasta last?
A. Homemade pasta has a much shorter shelf life than commercially made pasta. Uncooked pasta can be kept in an airtight container in the fridge for just one day. Properly dried homemade pasta can be stored in your pantry for up to six weeks. Alternatively, before you cut your pasta shapes, you can wrap the dough in plastic wrap and freeze it for up to one month.
Q. What sauces go with homemade pasta?
A. How you serve your pasta may come down to personal preference, but the shape of the pasta is a contributing factor. Pair fettuccine or tagliatelle with a homemade alfredo sauce or pesto. Wider pasta like pappardelle is great with slow-simmered meat sauces. You can also highlight the flavor of your fresh pasta (especially ravioli) by simply tossing it in browned butter and high-quality Parmesan.
Want to shop the best products at the best prices? Check out Daily Deals from BestReviews.
Sign up here to receive the BestReviews weekly newsletter for useful advice on new products and noteworthy deals.
Laura Duerr writes for BestReviews. BestReviews has helped millions of consumers simplify their purchasing decisions, saving them time and money.
Copyright 2023 BestReviews, a Nexstar company. All rights reserved.