Top pellet grills for your summer barbecue
It wouldn't feel like summer without the ability to barbecue. Pellet grills offer an excellent outdoor cooking option for cooks of all skill levels, but they can be intimidating for some buyers. Many like pellet grills because they don't require gas or charcoal. Instead, they use electricity to burn wood pellets, creating the heat you'll use to cook. Beyond being a little safer than other grills, pellet grills are popular because they're versatile and easy to use.
Shop this article: Traeger Grills Pro Series 22 Electric Wood Pellet Grill and Smoker, Camp Chef Smoke Pro XT Bronze Wood Pellet Grill and Smoker and Green Mountain Davy Crockett Sense Mate Electric Pellet Grill With Wi-Fi
What to consider when buying a pellet grill
Basics of a pellet grill
Unlike charcoal and gas grills, pellet grills burn wood pellets to create heat. These easy-to-use grills tend to have fewer flare-ups because the flames are hidden in a burning compartment beneath the cooktop. Users must fill the unit's pellet hopper before the cooking process. Pellet grills let you set the temperature precisely, making them more consistent. Pellet grills are also powered by electricity, usually with a 110-volt outlet.
Cooking surface area
The surface area of a pellet grill is usually the main feature buyers consider when browsing different options. Pellet grills can range in cooking surface area from as small as 200 square inches to as large as 884 square inches. They usually have two cooking surfaces, letting users separate foods across cooktops.
Temperature range
Another essential feature to consider when buying a pellet grill is the temperature range. You'll want to consider what type of cooking you want to do. Then, make sure the grill you choose can support those temperatures.
Pellet grills can span temperature ranges of 180 to 500 degrees Fahrenheit with high-end ones offering temperatures up to 700 degrees. For those smoking, roasting and baking, temperatures need to range from 180 to 425 degrees, while searing will require 500 degrees or more.
Temperature controller
Pellet grills include a temperature controller interface. Temperature controllers' precision varies based on whether pellets are fed continuously or at fixed intervals. There are four main types of temperature controllers:
Three-position controller: Three-position controllers, sometimes called low-medium-high or LMH controllers, include a basic three-tier heat system. These grills offer less temperature control than other types, but they may work for some buyers.
Multiposition controller: Multiposition controllers can be set at 10- or 15-degree temperature intervals. These offer more versatility and precision than three-position controllers. They burn through pellets in dedicated cycles.
One-touch controller: One-touch temperature controllers offer more precise temperature control at 5- or 10-degree intervals. Their LCD displays make it easy for users to set and change temperatures. These tend to be accurate within about 10 degrees since they feed pellets at fixed intervals.
PID controller: Proportional-integrative-derivative controllers, or PID controllers, offer the most precise temperature control. These devices use algorithms to keep track of the temperature within a few degrees. They only feed pellets when the temperature needs to be maintained.
Other features
Pellet grills can also include a wide range of potential features, most commonly including Wi-Fi, app control and ignition systems. With Wi-Fi and app control, users can set the parameters of the grill remotely, so you don't have to stand by the grill all day if you're slow-cooking.
FAQ
Q. Do pellet grills have a flame?
A. While pellet grills technically have a flame beneath the cooking area where the wood pellets burn, they don't have open flames like on gas or charcoal grills. Because users aren't exposed to an open flame, pellet grills are considered a safe alternative to traditional grills.
Q. Can you use charcoal in a pellet grill?
A. While some will say that you can use charcoal in a pellet grill, it's best to avoid doing so. They're designed to be used with burning wood pellets. Additionally, most charcoal won't fit very well into a pellet grill's hopper due to their bulky, uneven size.
What you need to buy for pellet grills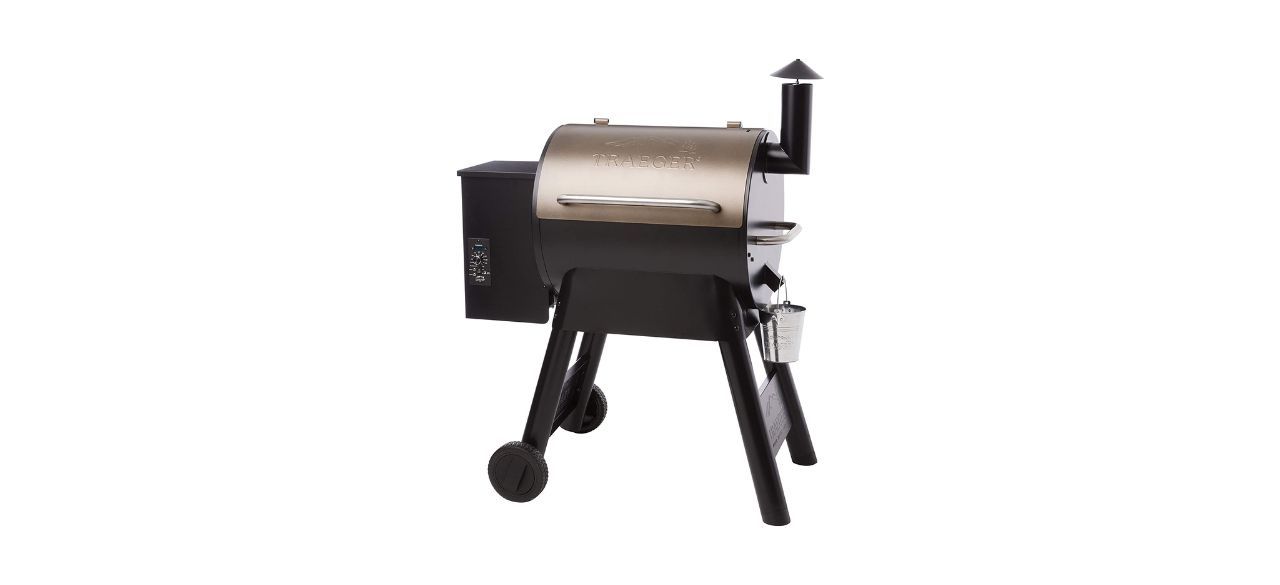 Traeger Grills Pro Series 22 Electric Wood Pellet Grill and Smoker
This Traeger grill includes two cooking racks with a total of 572 square inches of cooking space, suitable for up to 24 burgers. It also has advanced digital temperature control for keeping the temperature within 15 degrees of your target and can cook things slowly or quickly.
Where to buy: Sold by Amazon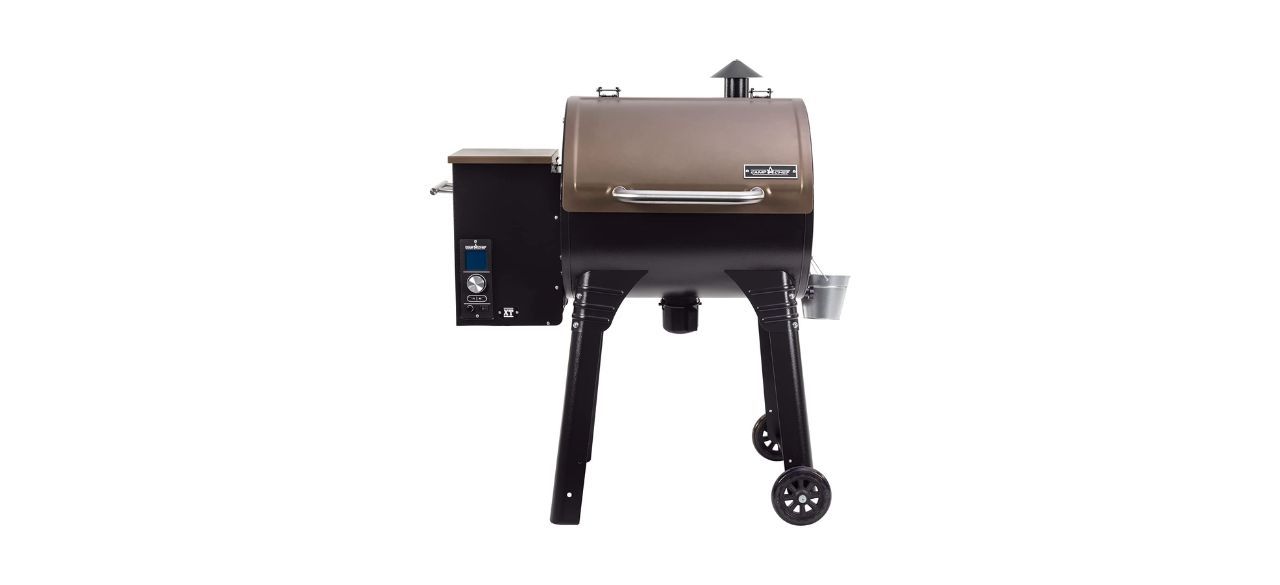 Camp Chef Smoke Pro XT Bronze Wood Pellet Grill and Smoker
This grill has a temperature range of 160 to 500 degrees. It has a total cooking surface of about 584 square inches between the main cooking area and the auxiliary shelf. It also has a digital LED controller and a simple pellet ignition button.
Where to buy: Sold by Amazon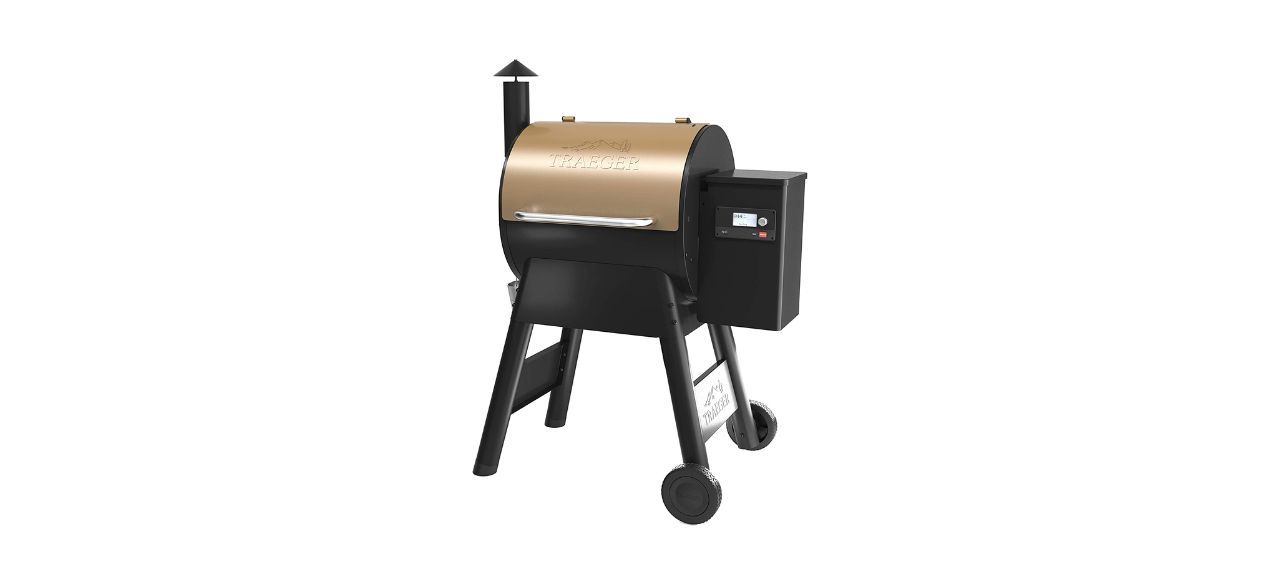 Traeger Grills Pro Series 575 Wood Pellet Grill And Smoker With App Support and Wi-Fi
Although it's pricey, this advanced pellet grill includes Wi-Fi connectivity, temperature control with the Traeger app and a temperature range of up to 500 degrees. It features 575 square inches of cooking area. You can buy it with a black or bronze lid.
Where to buy: Sold by Amazon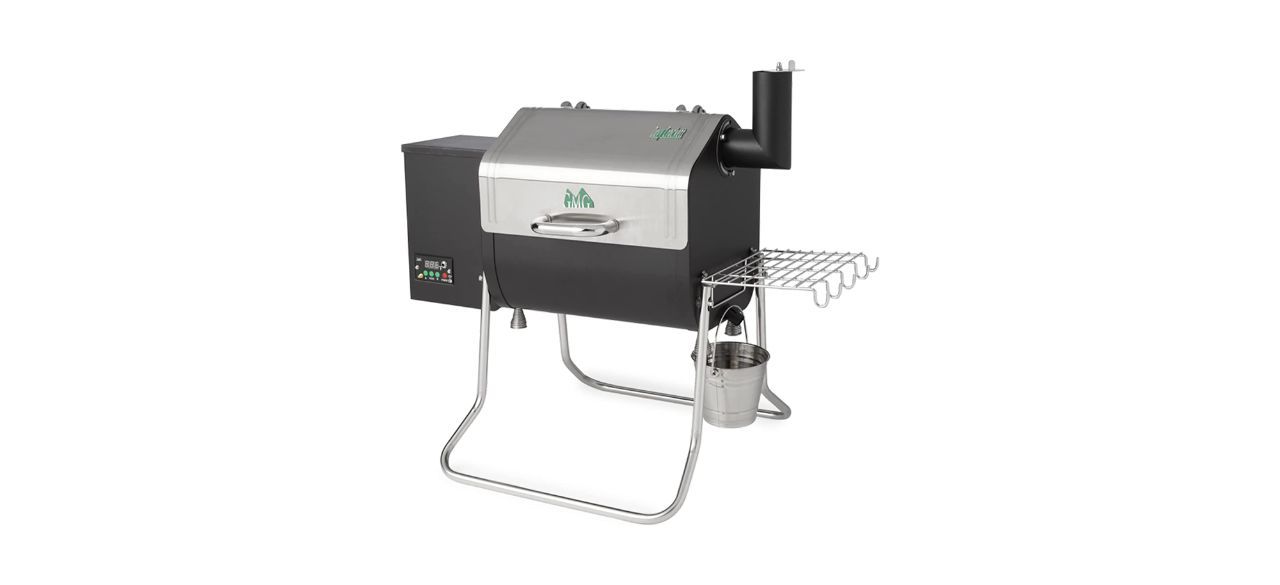 Green Mountain Davy Crockett Sense Mate Electric Pellet Grill With Wi-Fi
Another affordable pellet grill, this portable option has impressive portability options as well as Wi-Fi for controlling the grill remotely. The grill comes with hardware to run using a regular power cable, a car adapter or a battery.
Where to buy: Sold by Amazon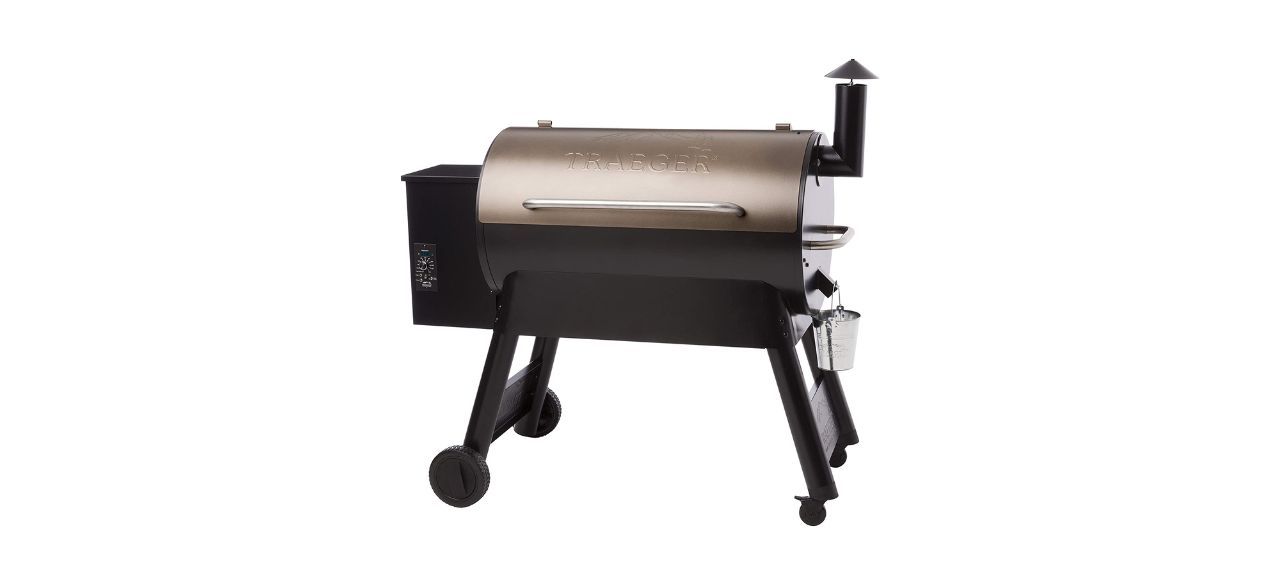 Traeger Pro Series 34 Electric Wood Pellet Grill and Smoker
This grill has a huge cooking area of about 884 square inches, offering enough room to cook around 40 burgers at a time. It has a max temperature of 450 degrees, and it features a simple 15-degree control system for precise grilling.
Where to buy: Sold by Amazon
Want to shop the best products at the best prices? Check out Daily Deals from BestReviews.
Sign up here to receive the BestReviews weekly newsletter for useful advice on new products and noteworthy deals.
Peter McGuthrie writes for BestReviews. BestReviews has helped millions of consumers simplify their purchasing decisions, saving them time and money.
BestReviews spends thousands of hours researching, analyzing, and testing products to recommend the best picks for most consumers.
Copyright 2023 BestReviews, a Nexstar company. All rights reserved.