This is an archived article and the information in the article may be outdated. Please look at the time stamp on the story to see when it was last updated.
OKLAHOMA CITY – A few familiar faces will no longer be a part of the Oklahoma City Thunder organization.
On Thursday, officials announced that point guard Reggie Jackson had been traded to the Detroit Pistons.
Just woke up from my nap a #Piston #DETROITBASKETBALL!!!

— Reggie Jackson (@Reggie_Jackson) February 19, 2015
Jackson, who is a backup behind Russell Westbrook, has seen quite a bit of play time this season following a series of injuries.
Jackson has made it clear that he wants to be the starting point guard, but does not have that opportunity with the Oklahoma City Thunder.
He failed to reach a contract extension with the Thunder last year, meaning he would become a restricted free agent in July.
This season, Jackson is averaging 12.8 points, four rebounds and four assists a game.
In 2011, Jackson was a first round draft pick out of Boston College.
In exchange, Oklahoma City will receive guard D.J. Augustin and forward Kyle Singler.
Augustin averages 10.6 points per game, while Singler averages 7.1 points a game.
Also, center Enes Kanter will be headed from the Utah Jazz to the Oklahoma City Thunder.
Kanter averages 13.8 points a game and 7.8 rebounds.
In addition, forward Steve Novak will be headed to OKC.
Kendrick Perkins will be sent to the Jazz in exchange for Kanter.
@KendrickPerkins Thank you for everything! Pleasure to work with you! You'll be missed!

— Dylan Buckingham (@DylanBuckingham) February 19, 2015
Retweet if you will always and forever be #TeamPerk. @KendrickPerkins

— Zach McCrite (@BigEZ) February 19, 2015
While Jackson was happy about the move, Kendrick Perkins was more pensive, reflecting on his time in Oklahoma City.
Crying tears of joy #godisgreat

— Reggie Jackson (@Reggie_Jackson) February 19, 2015
I would like to start off by saying Thank You to the State of Oklahoma for treated my family and I like Family and we Thank Yall so much!✊✊✊

— Kendrick Perkins (@KendrickPerkins) February 19, 2015
We are going to miss this wonderful place and all of you guys hold a special place in ours hearts! ThunderUp for life ✊✊✊✊✊

— Kendrick Perkins (@KendrickPerkins) February 19, 2015
Next to my Family @russwest44 @KDTrey5 @sergeibaka9 @nickcollison4 I appreciate yall for all the wonderful times and love yall for life🙌🙌🙌🙌

— Kendrick Perkins (@KendrickPerkins) February 19, 2015
Next I want to send a special Thanks to the Thunder organization and EVERYONE who works in the arena! I will never forget yall! My family

— Kendrick Perkins (@KendrickPerkins) February 19, 2015
And I have a lot of love for all you guys and we will never take what yall done for us for Granted! Love you all! #ThunderFamily✊✊✊

— Kendrick Perkins (@KendrickPerkins) February 19, 2015
Once a thunder, always a thunder @KendrickPerkins! Love you boy!! Always!

— Kevin Durant (@KDTrey5) February 19, 2015
While Perk and Reggie clearly had different feelings about the trade, Oklahoma City Thunder General Manager Sam Presti wanted both players to know that they were appreciated.
"It is important that we all thank Kendrick Perkins for his contributions to the organization. He had a direct impact on the trajectory of our team and helped us grow immeasurably in ways that will be felt years to come. We also want to thank Reggie Jackson for his contributions and wish him the best of luck as he starts the next phase of his career…"
Right now, analysts are praising Oklahoma City's trade, saying the Thunder received several veteran shooters that can add depth to the bench.
"We're extremely pleased to welcome Enes, Steve, D.J. and Kyle. We feel we have added talent, toughness and commitment to our roster and we are excited about the depth and versatility these additions provide," Presti said in a press release Thursday.
The Oklahoma City Thunder will take on the Dallas Mavericks on Thursday night inside Chesapeake Energy Arena.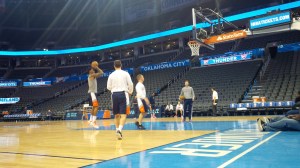 Tipoff is set for 7 p.m.
See a mistake? Report a typo here.