This is an archived article and the information in the article may be outdated. Please look at the time stamp on the story to see when it was last updated.
OKLAHOMA CITY -- In just a couple of days, the Thunder will tip off their season.
When the team plays their first home game, fans will notice some big changes to the Chesapeake Energy Arena.
Tuesday the team showed off their latest round of renovations, nearly wrapping up four long years of work.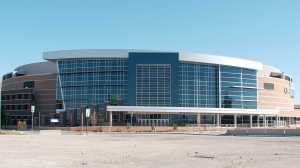 First and foremost, a grand entrance on the southwest side essentially gives the building a new front door. 
'It's a magnificent addition to the arena," SMG general manager Gary Desjardins said.
Arena managers said the old entrances on the building's north side will remain open but the new entrance on the south will soon tie into the planned central park and downtown boulevard.
It'll also make it easier to get in and out of the building.
"It allows better access and better crowd movement on every level," Desjardins said. 
The four-year renovation project, which began with new seats and scoreboard in 2009, followed by new concourses last year, now includes a new kidzone allowing children to shoot hoops and play games. 
Another restaurant, the Center Court Grill, will also open for business this year.
"It's great to see the vision materialize, what we set out to accomplish," Desjardins said.
Keep in mind, without all the renovations, the Thunder may have never moved to town.
"Over the last four years, the renovations have been terrific and helped create a world-class experience for fans players and the team in general," Thunder VP of Sales and Marketing Brian Byrnes said. 
Outside the arena, Thunder Alley returns this year with more family fun, but once again, the giant video screen will not broadcast the games.
The construction on the arena is not quite complete.
Some team offices still have to be constructed but there's nothing more that the average ticket holder will notice.