This is an archived article and the information in the article may be outdated. Please look at the time stamp on the story to see when it was last updated.
UPDATE 8/22/13
: NORMAN, Okla.- As Bob Barry Junior first reported on KFOR earlier this week, OU has officially named freshman Trevor Knight will be the starting OU quarterback.
SoonerSports.com made the announcement Thursday afternoon.
Knight graduated in 2012 from Ronald Reagan High school in San Antonio, Texas.
8/19/13 report:   With the Sooners' football season opener still a week-and-a-half away, there are still questions about who will be behind center when OU takes the field.
Head Coach Bob Stoops says he will announce the starter before this week is finished.
However, sources tell NewsChannel 4 that red-shirt freshman Trevor Knight is the most likely candidate to get the starting quarterback job.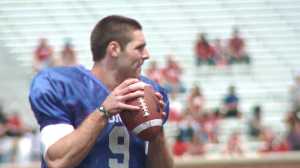 They say the 6'1", 202 pound Knight has been more consistent, smarter and more athletic with his passes and running decisions than the other QB candidates during summer camp.
Those sources expect the freshman to get the nod after a spirited battle with Blake Bell.
KFOR Sports Director Bob Barry Jr. had this to say:
Multiple sources have told me in the last two days, San Antonio, Texas, redshirt freshman Trevor Knight has won the quarterback battle at OU in a spirited competition against junior Blake Bell. Trevor is a 6-1, 202-pounder, who, according to those who act like they know, has been the most consistent player during the spring and summer, the smartest guy and more athletic than we know. And that's why he'll get the call when the Sooners line up against Louisiana-Monroe a week from Saturday. Of course nothing is official until head coach Bob Stoops says it is.
Knight was a dual-threat quarterback at Reagan High School in San Antonio, accounting for 75 touchdowns during his final two seasons with the Rattlers. As a senior, Knight passed for 27 touchdowns and 2,092 yards with three interceptions and also added 943 rushing yards and 15 more touchdowns.
Oklahoma kicks off its 2013 season a week from Saturday against Louisiana-Monroe on Owen Field.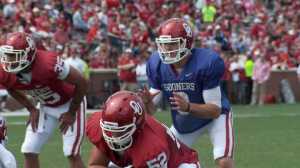 The game will be televised on Pay-Per-View beginning at 6:00 p.m.