This is an archived article and the information in the article may be outdated. Please look at the time stamp on the story to see when it was last updated.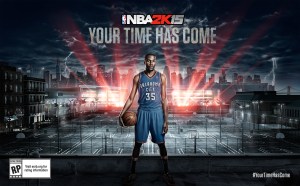 On a day where Kevin Durant earned his first ever MVP, KD was given another honor.
Durant will grace the cover of the popular basketball video game NBA 2K15 when the game is released on October 7th of this year.
A huge fan of the game, Durant said he begged 2K Sports to put him on the cover.
"I've been an avid fan and player of NBA 2K since I was a kid, and being selected as the sole cover athlete of NBA 2K15 is an amazing accomplishment at this point of my life." Durant said in a statement to USA Today. He added, "I feel like my time has come."
Last year's NBA2K14 has shipped more than 5 million units since it's launch last fall.