Forget everything you've come to know about the Dodgers' rotation over the last decade and prepare yourself for the West Coast version of the Rays when it comes to postseason baseball.
Not since Leo Durocher sent a bunch of draft classified 4F pitchers to the mound in 1944 have the Dodgers had a worse rotation. Never in franchise history have Dodgers starters thrown fewer innings in a full season.
The workaround for manager Dave Roberts will be to parcel the game among many pitchers. It's a dangerous way to navigate October—the more pitching changes you make, the more chances you have to be wrong—but it's what Roberts has done all season, and it has a better chance of working because of a fortuitous postseason schedule chock full of off days.
When you consider why this formula is necessary more than preferred, think about all the starting pitchers the Dodgers are paying this year who are not on their active roster: Trevor Bauer, Julio Urias, Noah Syndergaard, Walker Buehler, Tony Gonsolin and Dustin May. That's $63.2 million in starting pitching gone.
The Dodgers were forced to cobble together a rotation of Clayton Kershaw, youngsters and well-traveled veterans in which nobody has thrown 140 innings. The rotation's ERA is 4.61, the fourth worst in franchise history and the worst since Hal Gregg and his bad back fronted Durocher's Brooklyn wartime rotation while leading the league in the Triple Crown of wildness: walks, wild pitches and hit batters.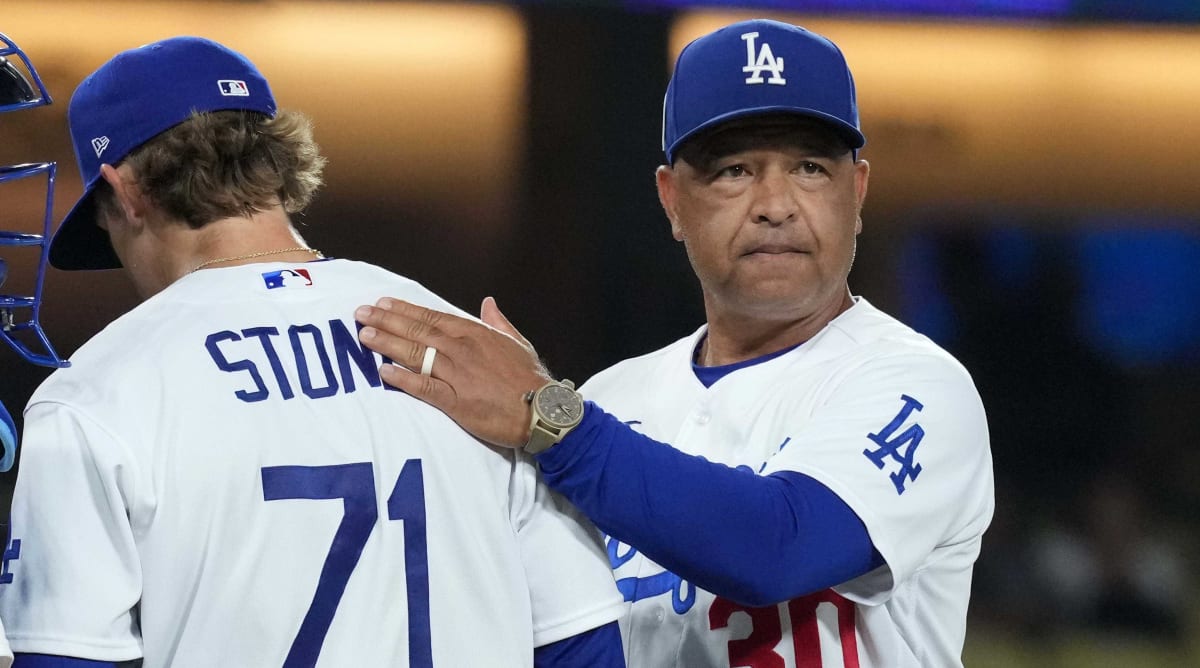 Roberts's workaround to this assortment has been to consistently pull starters quickly and rely on his bullpen. The Dodgers have the best bullpen in baseball in the second half (2.28 ERA) and it's not even close.
He has permitted his starter to throw 100 pitches this year only 13 times, fewer than every team but Colorado and Tampa Bay. Dodgers starters average only 80 pitches per start, the lowest of any contender except—here we go again—Tampa Bay.
The short leash approach is nothing new for Roberts and the Dodgers, though this year they are taking the philosophy to a new extreme. Roberts has managed 86 postseason games. Only 14 times has he kept a starter in for 100 pitches.
In 17 postseason games since Kershaw won 2020 World Series Game 5, Dodgers starters are 2–5 with a 4.31 ERA while averaging just 16.5 batters faced per game—less than two times around the lineup. Los Angeles is 8–9 in those games.
This postseason, without stalwarts such as Buehler, Urias and a younger version of Kershaw, Roberts has nobody he can count on for length. Nobody. Here are his best options and why he will start every game knowing he will get only about 18 batters from his starter each night.
Kershaw. He's been terrific, but age and midseason shoulder trouble have turned him into a five-inning pitcher. Kershaw has not thrown 100 pitches in a game since June 20. In eight starts since then he is averaging 68 pitches and 17.5 batters per start.
Bobby Miller. The 24-year-old righthander is the hardest throwing starter in MLB (98.9 on his four-seam and two-seam fastballs). Batters simply don't square up his heat (.379 slugging percentage). But Miller is already 22 1/3 innings beyond his pro high from last year, a 20% jump.
There's room to add more innings, but not in long outings for a guy who has thrown 100 pitches only five times as a professional, never more than 104. He also has started on four days of rest of only three times.
The governors on Miller's workload are still on. Don't be surprised to see him pulled after 18 batters in a game he is dominating.
Lance Lynn. It's a confounding mix of missing bats and hitting barrels. Lynn has allowed 43 home runs, a record for a pitcher who also averaged one strikeout per inning or more. You can't push him to face batters a third time (.900 OPS) and you better be careful about leaving him in to face lefthanded hitters (.929 OPS).
Emmet Sheehan. Here's another young righthander up against workload restrictions. Sheehan, 23, is 31 innings beyond his high from 2021, including his work at Boston College that year. He throws 95 mph with plus spin and extension, which gives his fastball good ride, but hitters have even more trouble with his secondary pitches (.173 batting average). A platoon-neutral pitcher, Sheehan has not pitched much out of the bullpen.
Ryan Yarbrough. If you like swing-and-miss in the postseason, this is not your guy (6.7 Ks per nine). He is not a matchup lefty, either. (Righthanders have a slightly lower OPS against him.) He does get weak contact and presents a good contrast when paired with hard-throwing righthanders.
Caleb Ferguson. Roberts's favorite opener has started seven times this season, averaging only five batters faced. He throws 97 percent fastballs and cutters, which makes him a platoon-neutral lefthander, not a matchup one.
This is Roberts's plan: cover the first 18 batters or so with a starter and divide the other 20 or so among relievers. Evan Phillips gets the endgame responsibility. Brusdar Graterol, whom Roberts has used the most in high leverage spots, gets the middle of the lineup in the seventh or eighth innings. Ferguson, Alex Vesia, Joe Kelly, Ryan Brasier and other relievers pick up the rest of the load.
The plan can work because of the off days, including one before and one after NLDS Game 2. Even if the Dodgers advance in five games against their NLDS opponent, Roberts will have a rested bullpen for six of his first eight postseason games. There is almost no penalty for scripting short starts every game.
Because he will need to make so many pitching changes, Roberts will be a postseason focus, a role to which he is accustomed. The Dodgers were one of the early adapters to the Third Time Around Theory, pulling starters like clockwork when the lineup turned over a third time.
Roberts brings a streak into this postseason of 12 straight postseason games in which he has pulled his starter after five innings or less, sometimes because of ineffectiveness. (The team is 5–7 in those games.) This time, the Dodgers must script for those abbreviated starts.