This is an archived article and the information in the article may be outdated. Please look at the time stamp on the story to see when it was last updated.
NORMAN, Okla. — A statue of Oklahoma head football coach Bob Stoops was spotted in Norman Monday.
The statue was being hauled on the back of a truck down Lindsey Street near the OU campus.
It depicts what appears to be a coach with his hands on his hips, and a visor, Stoops' signature headwear, on his head.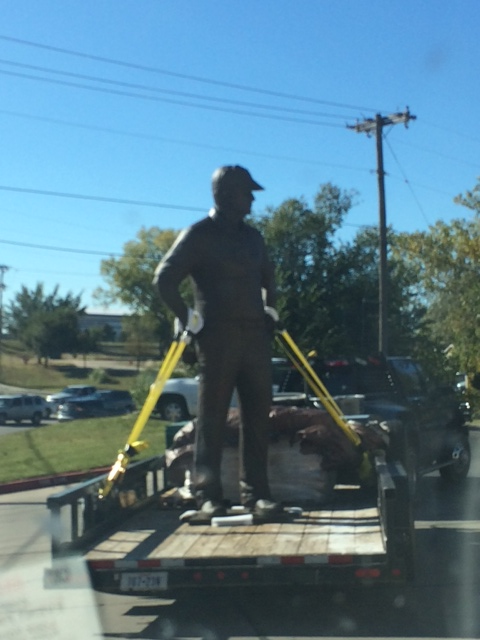 OU already has statues on campus honoring former coaches Bennie Owen, Bud Wilkinson and Barry Switzer.
Stoops told the media in 2012 he did not want a statue on campus while he was still the coach, although he had been approached about it.
"They've asked and have it ready to go,"  Stoops said then.   "I don't want that at all.   It would be weird to me.   Not until I'm done.   Who knows when that will be?"
Maybe OU was putting the statue in storage somewhere, but they certainly didn't hide what they were hauling very well.
Later Monday, OU director of athletics Joe Castiglione issued a statement regarding the statue:
"Several years ago, when we began the process of recognizing our most accomplished coaches, we certainly included Coach Stoops in our planning. While statues of Owen, Wilkinson and Switzer have already been dedicated, Coach Stoops preferred to wait until a later date. Even though approvals of design, sculpting, production and storage took place, it was determined that the dedication would occur at a yet-to-be-determined point in the future. We did not receive any advance notice that the statue was to be transported to campus at this time. Moreover, we are extremely disappointed in the lack of consideration, respect and care that was shown in delivering the statue to Norman. This was completely unnecessary. It certainly is not reflective of the way we feel about Bob or the respect we'll show him when his extraordinary achievements are properly celebrated."