This is an archived article and the information in the article may be outdated. Please look at the time stamp on the story to see when it was last updated.
Severe weather blew through the metro Tuesday evening and left some neighborhoods a mess. Several trees uprooted near Ski Island in the Hefner and Rockwell area.  Katie Seymour was in her truck, in the driveway, when it toppled.
"The storm knocked down the tree. I guess the wind just blew it over. It hit our truck and I was in it when it fell and hit the truck."
In this same area, the signs for Taco Bell and Freddy's were ripped from their posts and blown a block away.
No injuries were reported.
Rain chances will be the highest in Western Oklahoma today as our storm system slowly pushes west. This is great news for Western Oklahoma, still under drought status.
Many viewers and visitors have sent in photos of wind and rain damage in many parts of the metro area:

Thunderstorm west-southwest of Chandler, Wed. 7/17/13 Photo by Kim Beloncik

Heavy Rains - Photo by Christopger Griggs

Fence Damage - Photo by Wes Milbourn

Tree and Home Damage - Photo by Cathi J. Reznecheck

Hail NW OKC - Photo by Christopher Griggs

Fence Damage - photo by Christopher Griggs

Fallen Trees - OKC metro - Photo by Wes Milbourn

Tree Damage - Photo by Wes Milbourn

NW OKC - weather damage- Photo by Tam and Lien Vo

Tree Damage OKC Metro - Photo by Wes Milbourn

Ski Island Trees Down -Photo by Katrina McGhee

Wind and rain downs trees in OKC metro - Photo by Wes Milbourn

Ski Island- wind damage - Photo by Marissa Robinson
Rain continues into tommorrow: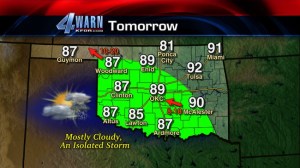 We will dry out and warm up for the second half of the week returning summer temps to the Sooner state by Friday. Enjoy the cooler temps and beneficial rain!